Tibet is among the most popular places for Chinese tourists. The number of travelers to Tibet has grown every year. By plane is no doubt a striking experience on the high plateau within a short period .Explore Tibet Team, a Lhasa-based local Tibetan travel agency has successfully obtained Tibet travel permits for groups, today will introduce the first airline based in south-western Tibet to you.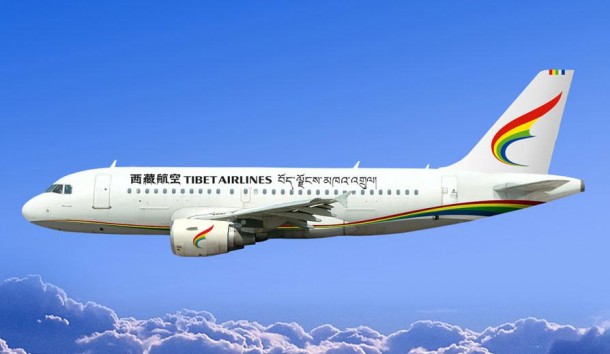 Tibet Airlines is an airline founded in March 2010,which is approved by the Civil Aviation Administration of China and operates scheduled domestic flights out of Lhasa Gonggar Airport. It is the first airline based in southwestern Tibet, which specialized in providing freight and passenger services. The booming tourism is a good opportunity for the development of the aviation industry in Tibet. So the main aim of the Tibet airlines is to connect the region's five existing airports and improve transportation throughout the vast region.
The idea of the Tibet Airlines' logo originates from two typical Tibetan elements,Khatag and prayer flag. Khatag signifies the sincerity, hospitality and friendship of the company. The prayer flag represent the best blessing for those passengers. The color of the logo resembles a rainbow hangs over the Roof of the World.
The real challenge of Tibet Airlines is to guarantee the safety of flights as they fly at a high altitude. Besides, striking experiences on the high plateau within a short period.
If you want to travel Tibet by plane, you should plan your Tibet tours ahead of time. All permit files must be submit at least 15 days before the tour starting date, so the last minute booking is not workable in this period. Still lacking a vacation plan? Plan your visit to mysterious Tibet, the purest place on the planet with Explore Tibet Team.