There are various forms of prayer beads used in almost all religions globally, and the different religions have their own exact number of beads per rosary. The Tibetan rosary beads or prayer beads are a traditional tool used to count the number of times a mantra is recited while meditating.
It is important that if a prayer bead is used to count mantras, the mantra is remembered with sincerity, devotion, feeling, and full attention. It generally has 108 beads, and it also has two markers which have ten beads on each. It is called Dorje in Tibetan.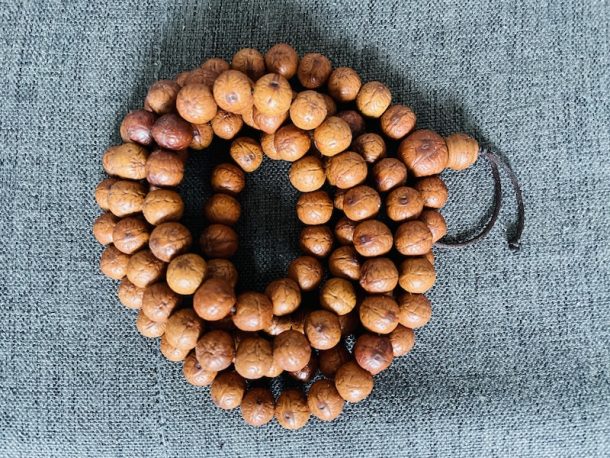 These markers usually come in silver, gold, bronze, and copper. The rosary bead comes in various wood and stones such as sandals, wood, Raksha seeds, banyan woods, lotus seeds, Bodhi seeds, crystal stones, precious stones, coral, amber, tiger-eyed stones, and many other materials. The thread of this rosary is made of white wool.
There are many explanations for why there are 108 beads, with the number 108 bears special religious significance in Hindu and Buddhist traditions, and it is therefore founded in Dharmic metaphysical numerology. In the Tibetan Buddhist traditional thought, people are to said to have 108 afflictions.
There are six senses: sight, sound, smell, taste, touch, and consciousness, multiplied by three reactions: positive, negative, and indifference, making 18 feelings. These feelings can be either attached to pleasure or detached from the pleasure, making it to 36 passions. And each of which may be manifested in the past, present, and future.
All the combinations of all the above things make a total of 108, represented by the beads. In addition, practitioners of Vajrayana Buddhism use the number 108 for a different purpose. After reciting 100 mantras, eight extra mantras are done to compensate for any errors.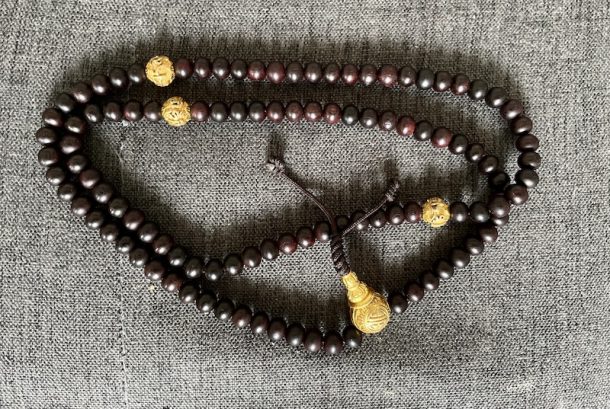 These beads are the same size and shape, but one is bigger than the rest of them, and it is called Gapon in Tibetan. It stands for wisdom that recognizes emptiness, and the cylindrical bead surmounting it, emptiness itself, symbolizes overcoming all obstacles.
It is the beads where Buddhist counting starts. After completing one cycle of rosary bead, the right side of the marker counts each as hundred counter and after completing ten counts of hundred counter then left side marker is used to mark a thousand counter which means after completing all the rosary beads and the marker. The total counts will be 100,000. The one repetition is usually said for each bead while turning the thumb clockwise around each bead.
The rosary beads are also used to count for other prayers, prostrations, circumambulations, and so forth. Used to count the number of mantras that have been recited, it is employed in daily practice. Still, it becomes even more important to someone in retreat because the limit of many retreats is measured in terms of the number of mantras recited. The rosary bead is used to focus on each mantra's meaning or sound rather than counting its repetitions. Many people wear their rosary around their wrist or neck, which easily reminds them of their religious commitments.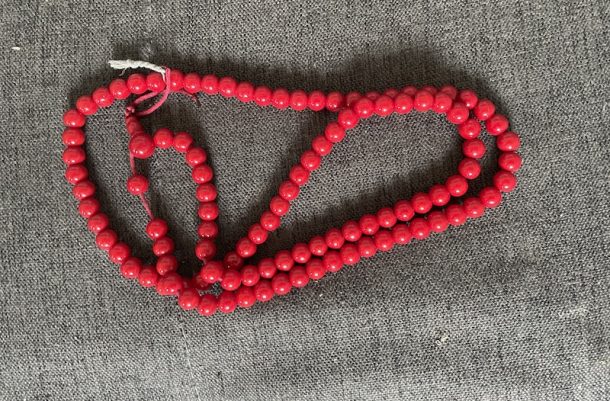 There are many benefits of reciting mantras based on the beliefs of Tibetan Buddhists, such as mantras counted on these services to increase lifespan, knowledge, and merit. A rosary for this purpose should have one hundred such beads. Mantras counted on these beads serve to clear away obstacles, such as illness and other calamities, and purify the practitioner of unwholesomeness. The motivation for doing or reciting mantras should be a pure wish to help other sentient beings and not benefit yourself only.