Tibet is a mystical and famous but yet a remote, distant and a hard to reach place. And the long history and exotic religion allures more and more tourists every year. You can see many tranquil villages and incense-wreathed temples hem in clusters of snow-capped mountains .Explore Tibet Team, a professional Tibet travel agency, introduces the oldest monastery- Samye Monastery to you.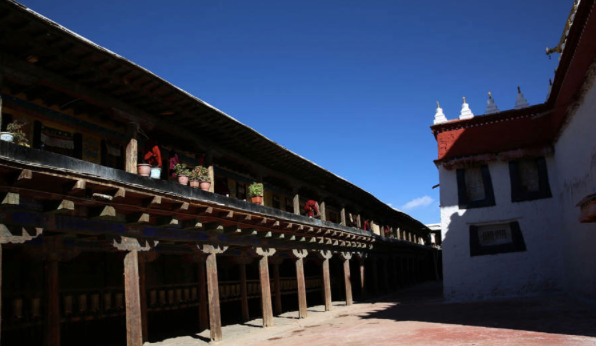 Samye Monastery is sitting at the mountain area of Chanang County in southern Lhoka Prefecture and it is the oldest Buddhist monastery in southwest of Tibet. It is built in the 8th century, and the architecture is integrated with Tibetan, Chinese and Indian styles. The four pagodas are in white, red, black and green. These four pagodas are designed and built in four corners of the courtyard. These four pagodas represent the four divine dharma guardians. Samye Monastery is about 38 kilometers from Tsedang and now it covers a large scale of more than 4,900 square meters.
It is the first monastery, where the famous debate of the doctrines between ancient Indian Buddhism and inland Buddhism happened.  There is a stone stele was erected to honor Trisong Detsen's vow. And his vow is piety to Buddhism. Besides, there is a pair of white marble statues in the monastery, and the shapes of white marble are simple and with a carving style of Tang Dynasty. Furthermore, there is a rare bronze bell with ancient Tibetan script on it and it is the first bell cast in Tibet.
Entrance ticket of Samye Monastery is the costs 40RMB per person. It takes about 3hours to reach Samye from Lhasa by bus. Stay longer in the city to experience the rich culture and hospitality of Tibet.