Thangka painting is one of the most beautiful cultural heritages of Tibet that is very well preserved and developed in many ways. It is a painting on cotton or other soft materials, like silk. The painting usually depicts a Buddhist deity, scenes, or Mandala.
Unlike other forms of painting like oil painting or acrylic painting where the painting is done in flat manner, Thangka painting consists of a picture panel which is painted or embroidered over which a textile is mounted and then over which is laid a cover, mostly silk.
Thangka is perhaps one of the most indispensible objects in the spiritual life Tibetan people's life. Be it in religious places like monasteries and temples, or in the households of ordinary Tibetans, Thangka is thus a very important religious article.
The traditional paining has many different functions in the religious life of Tibetan people. It carries the images of various Buddhist deities, and can also be used as teaching tools when depicting the life of the Lord Buddha describing historical events. It also portrays myths associated with other deities. The painting also has a wide variety of usages in other rituals or ceremonies. Most importantly, the religious art is believed to be a meditation tool to help the practitioners further down the path to enlightenment.
Historically, the original art of Thangka painting is believed to be a Nepalese art form which got exported to Tibet after Princess Bhrituti of Nepal married the Songtsen Gampo, the great king of Tibet during seventh century. Historians also think that the Chinese painting had a considerable influence on Tibetan painting in general. Thus, the Thangka we see today is believed to carrying influences of Nepalese, Indian and Chinese paintings.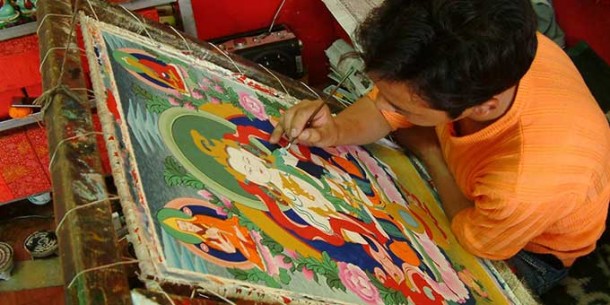 Thangka painting has been a distinctive symbol of Tibetan Buddhism across the world today.  The very practice of Thangka painting was originally done as a way of gaining merit, however, nowadays it has turned into just another commercial article.
Thangka painting is an extremely complicated and detailed art that requires many years of practice to acquire the skills. There are many famous Thangka painters in Tibet, some of whom had inherited the art from their previous generations who had excelled the delicate craft. In this way, it is a very vital part of Tibetan cultural heritage.
While the Thangka paintings of decent quality may lasts for hundreds of years when preserved well, the painting is also delicate in nature as it has to be kept in the dry places where the moisture won't the painting.
Most of Tibetan monasteries has all different types of Thangka paintings and some old Thangka paintings well preserved and can be seen in Tibet, temple like Potala palace, Jokhang temple, Samye monasteries and so on.
Written by Tashi Namgyal
Explore Tibet Post Writer
Other Related Post You Might Like