Yumbu Lhakang and Yarlung valley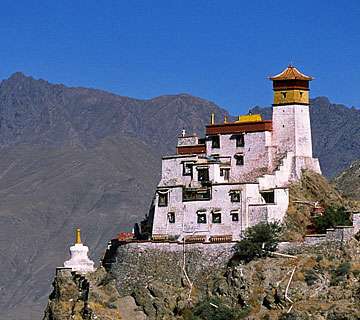 Establishment of the holy Yumbu Lhakhang initiated in 2nd century at the time of first Tibetan King called Nyatri Tsenpo (Ohbayra another name for the king) who was enthroned in the year 126 B.C, as Tibetans believed that he is decended from heaven. The literal meaning for the Yumbu Lhakhang is female deer, where the actual location of the holy chapel is situated on a hill that named as Tashi Tsere that is structured as a female deer. The name of the holy chapel taken from the structure of the hill, this Yumbu is the earliest building in Tibet and historically it is said the First Building in Tibet. At the present it locates in Nyedong county in Lhokha prefecture, the winter palace for the king Songtsen Gampo in 7th century and before that it was palace for many previous kings in which during the 5th century at the time of king Lha Thothori, there is a mythical story happened. According to the locals, the story goes like this a holy scripture fall down from heaven on the roof of the Yumbu Lhakhang and no one is able to read that even the scholars, meantime there is a mighty voice from heaven commanding them that "after five generations a person is coming to read and understand that is jotted on the scripture". This is showing at the time of the king Songtsen Gampo, many scholar sent to India to learn Sanskrit and various languages that succeeded in translating and creating Tibetan Grammar and Literature and opened the eyes to Tibet by flaming the wisdom candle to the peoples of Tibet in 7th century at a place called Papongka.
Later the fifth Dalai Lama reside there and opened a Yellow Hat Sect school there and from there it became a holy and sacred shrine in Tibet. In the main chapel, it contains of Successive kings statue and Three tenses statues of Buddhas. Where the Yumbu Lhakhang is one highly damaged during Cultural Revolution and then renovated in 1960's and still it is able to catch many eyes from the world. Especially, the spreaded colorful prayer flags all around the Tashi Tsere hill gives a perfect sense of holiness and down villages with square agricultural lands are most amazing if someone give a look from the holy chapel.