The tombs of the kings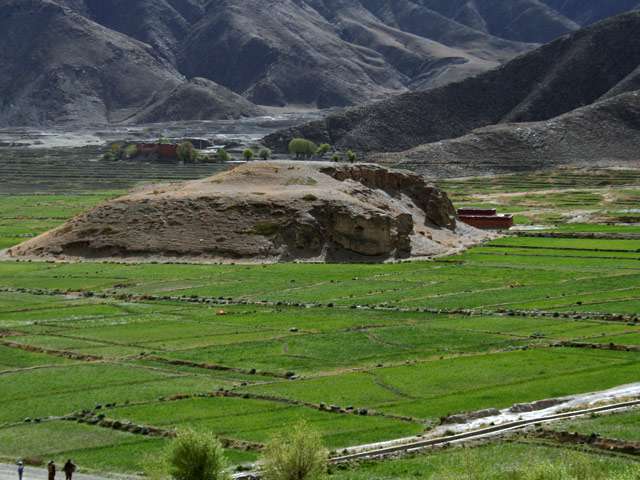 The Yarlung valley contains many of Tibetan histories and legends, tombs of the greatest kings of Yarlung Dynasty is also one of it where contains of almost 20 different tombs belong to those honorable kings of Tibet. Sometimes this place is also known as Chongye as all the tombs are situated near Chongye town and east of Chongye River, the tombs of the kings where located here and there covering some hundreds of square kilometers. The small and sacred reconstructed 13th century Nyingmapa temple situates on one of the small hill at Chongye is also a place with many mythical stories; the main statue belongs to the 33rd king Songtsen Gampo with his two foreign queens and his chief minister (Gar Tongtsen). At the ridge of Chingpa Taktse the Dzong situates which was the ancient residence of the Yarlung kings and birth place of the great fifth Dalai Lama in 1617.
History
Historically Chongye was the ancient capital of the Tibetan kings until Songtsen Gampo consolidated his newly unified kingdom at Lhasa in the seventh century. The Chongye is a large imperial graveyard with nine massifs. Initially, all the tombs are round high, square earth heaps with flat tops of piled stone and peaked earth, gradually after hundreds of centuries passed all the place have changed; some turned rounded and flat on top where mostly are flat. Still the wonderland contains the biggest and most popularity tombs of Tibetan kings, but the legendary and prehistoric tombs of kings are no longer visible.
At present there are 16 identifiable tombs are situated in Chongye, where Chingpa Taktse or Chongye valley contains 10 of the graveyards which are,
1- Songtsen Gampo.
2- Mangsong Mangtsen.
3- Dusong Mangtsen.
4- TidyTsukten.
5- Jangsa Lhaon.
6- Muni Tsenpo.
7- Tri Ralpachen.
8- Lhang Dharma.
9- Namday Woesang.
Dungkar valley contains 6 of the graveyards which are,
1- Trinyan Songtsen.
2- Takri Nyantsen.
3- Namri Songtsen.
4- Gongri Gongtsen.
5- Murab Tsepo.
6- Mutik Tsepo.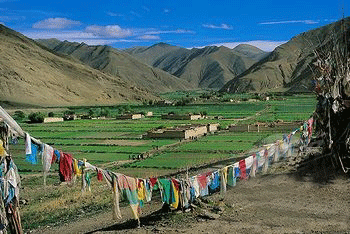 Among which, 33rd king Songtsen Gampo's tomb is the largest that is 13.4 meters high and historically so many treasures kept inside the tomb as at the time of death, the king vanished into light. However, the place was rapidly developed in some years from the government.