Rongbuk Monastery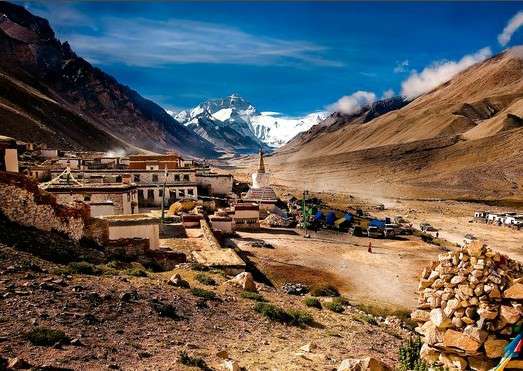 The highest monastery in the world called Rongpu, Rongphu, Rongbuk or originally Dzarongpu that locates on an altitude of 4980 meters above sea-level. It was the established by the great master (Padmasambhava) from India in the 8th century, who founded Nyingmapa order in Tibetan Buddhism.
Initially the monastery contains 3 of nunneries and monasteries where almost 500 monks and nuns were practicing Buddhism with many small meditation caves around it. Later, another renovation was taken in the year 1901 by Lama Ngawang Tenzin and redesigns the monastery a little bit at the time.
History
Dzarongpu or Rongbuk monastery was erected by Padmasambhava (great master who came from India) in the 8th century on an altitude of 4980 meters above sea-level. The plateau monastery stands on highest point in the whole world that consists of three nunneries and monasteries with a population of 500 (monks and nuns), where there are an area of meditation huts and caves that had been in use by the communities of these nuns since in 18th century. This Nyingmapa sect monastery was rebuilt in 1901 by the Lama Ngawang Tenzin and two of the golden and copper images of Padmasambhava (Guru Rinpoche in Tibetan) are the most sacred statues in it since after the reconstruction.
In the present times, two of roads are very popular to get there that are from Old Tingri and Shelkar or Shelgar, both the roads take 4-5 hours of driving catch the best view of Mt. Everest's north face with a religious stupa (Chorten in Tibetan) right in front that enables a perfect shot of the Everest. Variable colorful prayer flags around the monasteries are tied by pilgrim peoples from Tibet and Nepal, still this particular and idle location remains a dream for many travelers all around the world. Tibet tourism also gave importance to the location and established post office and military base camp for immediate life savers. The tent-guesthouse near the monastery is another attraction with colorful decorations and warm night in the tent with a oven burning yak pats.