Gaden Monastery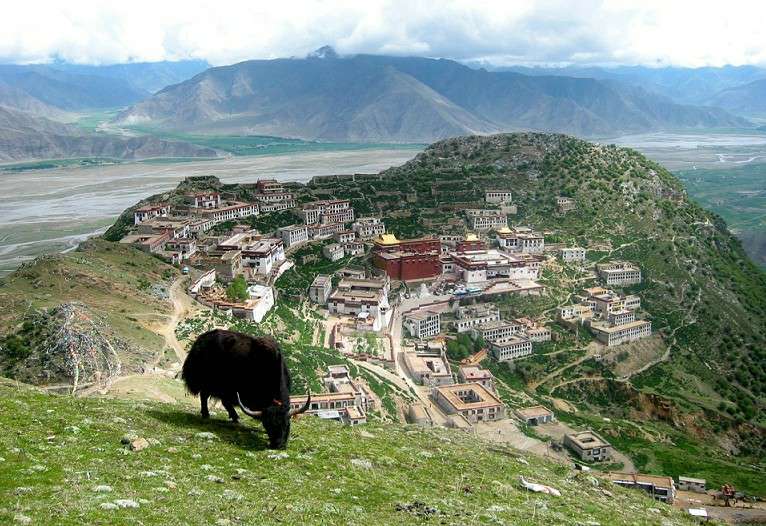 Gaden Namgyal Ling Monastery, the actual name for the Gaden Monastery which was founded by Tsongkapa (the scholar from Amdo Tsongka and founder of Yellow Hat sect in Tibetan Buddhism) that covers 11,000 square meters. The monastery is situated 45 kilometers away from Lhasa city and locates on the Wangkur Mountain with an altitude of 3900 meters above sea-level. The snow-capped mountains around the monastery is one of breath-takers with an amazing views of tide-mountains and valley straight down the monastery, one lengthy path leads to circulate the monastery from outside with beautiful views and sceneries which Tibetans called Lingkor.
History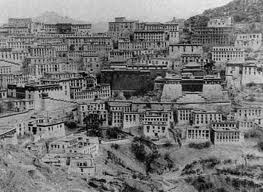 According to the local legends, Gaden monastery is the initial Yellow Hat monastery that was build by Tsongkapa (the scholar from Qinghai province from a small village called Tsongka) on the Mount Wangkur in the year 1409 on an altitude of 3900 meters. The monastery has a wide area occupying different building, Tsokchen (main assembly hall) erected in 1417 with a holy image or statue of Budhha and two colleges called Changtse (Northern College) and Shartse (Eastern College) that was founded by two of close disciples of Tsongkapa.
Then later a chapel of Tsongkapa's golden throne erected under the order of monastery heads, there is also a meditation cave of Tsongkapa in which there is self-arising images of gods (Tsongkapa, Shakyamuni, Amitayus, Atisha and Dromtonpa) and goddess (Shridev), at one corner of the meditation cave there is a rock contains the palm printings of the holy master. Later the holy scholar deceased in the year 1419 and the seat passed to Gyaltsab Ji and Kyedrup Ji respectively, gradually the Gaden Tripa (only Lama that is choosing accordingly to individual knowledge) came to look after the only monastery. As there is a saying in Tibet goes "whoever got the superior knowledge the seat of Gaden Tripa is always empty for those", based on this concept monks use to struggle a lot for practice and theories of Buddhism.
At the ridge of the mountain, there is a place for sky-burial still using in the present days, where dead bodies are cut and giving to vultures as thought of giving ness. This place can be seen when people go for the Lingkor path that is the circumambulatory route for pilgrims, the route is fill up with many mythical stories and prayer flags waving along the wind.
At present, the monastery has 300 monks residing there, most part of the monastery is also restored which destroyed during Cultural Revolution. The zigzagging road of 6 kilometers is one of the best snap shots from the Lingkor path. And especially on the Gaden Serthang festival on which displays a giant Buddha embroidered is one of the most sacred religious festivals in Tibet that attends by thousands of local Tibetan pilgrims from all corners of Tibetan plateau.
TAG: