Gonkho,A Blind Man's Pilgrimage to Mt Kailash
Short story of Gonkho's Mt Kailash pilgrimage, who is blind nomad from Gertse and with his wife's help, he took only one day to complete the Kailash Kora which usually 3 days trekking for normal tourist, total distance of 52km with highest pass of 5600m.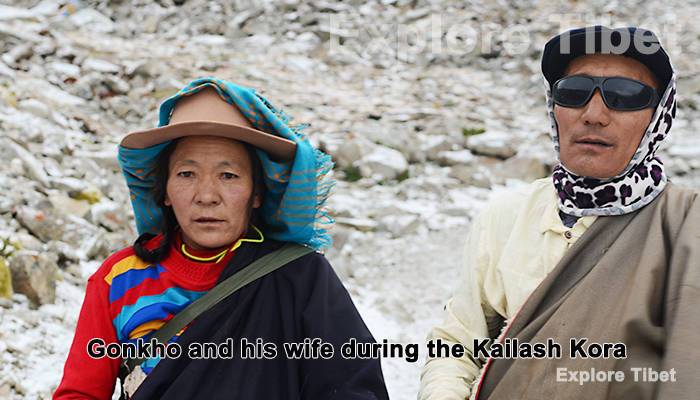 Gonkho was 49 years old when i met him at the Mt Kailash Kora in Oct 2017, this amazing family man lives in a nomad family, where he spends his days working at milking the dri (the female of the yak), churning the milk to make cheese and butter, and working in the house. For him, this is not a problem, as he has been doing this work since he was a child and can easily make the cheese and butter without being able to see it.


With his devoted wife at his side, guiding him over the rockiest parts of this rough and rugged terrain, Gonkho walks with a determination that is almost holy in itself. It was in October 2017 that the team from Explore Tibet made their own journey to the sacred Mount Kailash, to perform their own kora around this holy mountain. During their trek, they came across Gonkho at the foot of the rise up to Dolma La pass (5600m altitude).
One day, one circumambulation with total distance of 52km
Our second day of trekking, we had started out from Drirapuk Monastery that morning, heading for the heady heights of the Dolma la pass and to the Dzultripuk Monastery, our second overnight stop on the kora route. Talking with Gonkho and his wife, we discovered that the pair had left Darchen, the starting point of the kora route, early that same morning, and would complete this kora within the day. As they walked, Gonkho was guided by his wife through the rockiest parts of the climb and shared about their unusual spirtual journey to the Explore Tibet team.
They had left Gertse to head for Kailash, as they did every year, as October was the quiet season for nomad herders, and a time to make their spiritual pilgrimage to Mt Kailash and Lake Manasarovar. Traveling with a truckload of other pilgrims from their village, the couple arrived at the mountain, and the next morning started their rituals. When the team from Explore Tibet met them, Gonkho was already on his third circumambulation of the Mt Kailash, and he had completed each of the other two ritual koras in one long day.
This time, it looked as if it would be harder for them, as it had been snowing all morning. Undeterred by the falling snow in October, the couple were adamant that they would also finish this kora within the day and will likely perform several more before they headed back home.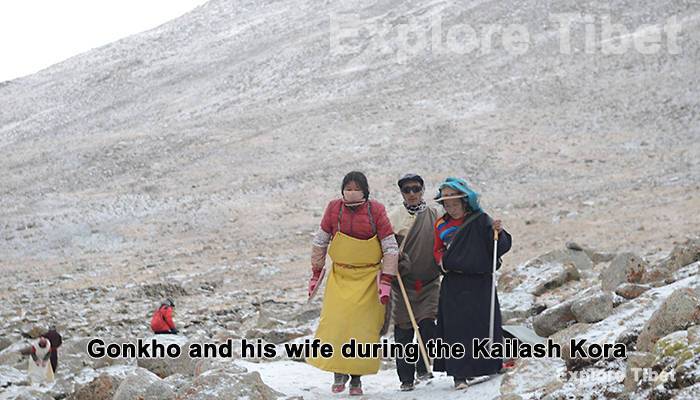 Mount Kailash in Tibet's Ngari Prefecture, one of the holiest places in the world, is believed to be a place of spiritual power in Buddhism, Bon (Tibetan ancistor religion), Jainism and Hinduism. And it is not holy to just those religions. Considered to be the center of the universe for Jains and Bonpo as well, this sacred mountain receives thousands of pilgrim visitors every year.
One of these pilgrims is Gonkho, a father of four from Gertse in Ali Prefecture. Every year, Gonkho and his wife make the journey to Mount Kailash to spend a few days completing their spiritual ritual of performing the kora around the base of this holiest of mountains.
Performing the ritual kora around Mt Kailash
In Tibetan Buddhism, a kora is a sacred ritual in which the pilgrims walk around a sacred or holy site in prayer, chanting sutras and spinning prayer wheels. This form of ritual, which translates to "Circumambulation" or "revolution", is a kind of pilgrimage and a meditative practice in both Tibetan Buddhism and the ancient Bon religion. The kora is performed by the pilgrim around a holy site or object as part of the whole pilgrimage ritual.
Every year, when Gonkho and his wife come to Mount Kailash, they can perform as many as ten ritual circumambulations around the mountain, normally completing one circuit in a single day. For any person, this is a feat of unimaginable stamina and discipline. For Gonkho, however, this is even more of an amazing feat, as he was born blind.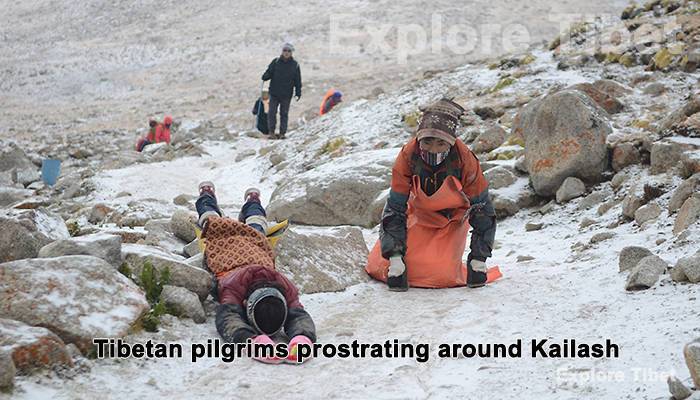 The kora route around Mount Kailash is actually 52 kilometers long and encircles the entire mountain. Even for someone who is relatively fit and used to trekking at high altitudes, this trek through stunning valleys and over high passes is an arduous and strenuous achievement, which is normally done (at least by the tourists and many pilgrims) in around three days, walking no more than 7-8 hours in one day. The rugged route is covered with larges stones and huge boulders, and the terrain is rough and uneven, with steep climbs to the higher parts of the kora.
At its highest point, at the famous Dolma La pass, the kora reaches an elevation of 5,636 meters, more than 400 meters higher than the Everest Base Camp which makes many tourists feel the effects of altitude sickness. The route to this pass is steep and challenging, even for a ft and experienced trekker. For Gonkho, it is just another part of the kora.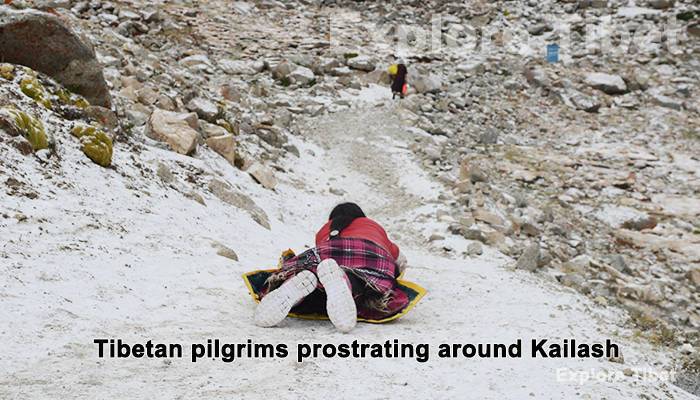 Tibetan Buddhist culture
This is just one of the many amazing stories about the Tibetan people and their devout belief in their Buddhist faith. In Tibet, Buddhism is a major part of the people's daily lives and is so interwoven within the culture that the two are no longer mutually exclusive. Buddhism is part of their culture, and the Tibetan culture is all about their religion.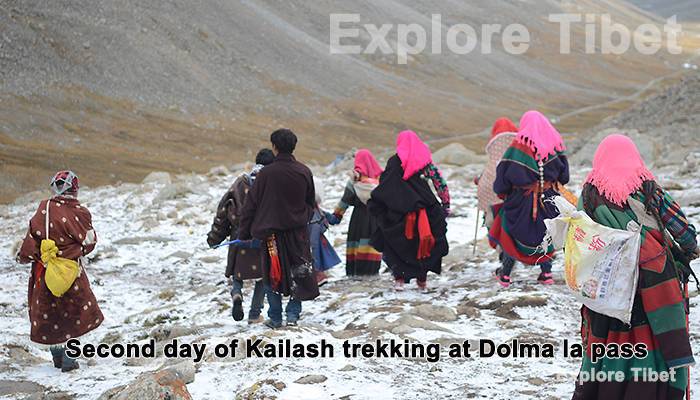 Every year, hundreds of thousands of Tibetans perform similar ritual pilgrimages to the various sacred and holy sites across this vast land on the roof of the world. With scant regard for the extreme altitude, and a determination that is unwavering, Tibetan Buddhists travel as much as a thousand kilometers across the vast plateau. While some travel by vehicle, most walk to their pilgrimage destinations, and some even prostrate themselves every few feet for the entire pilgrimage.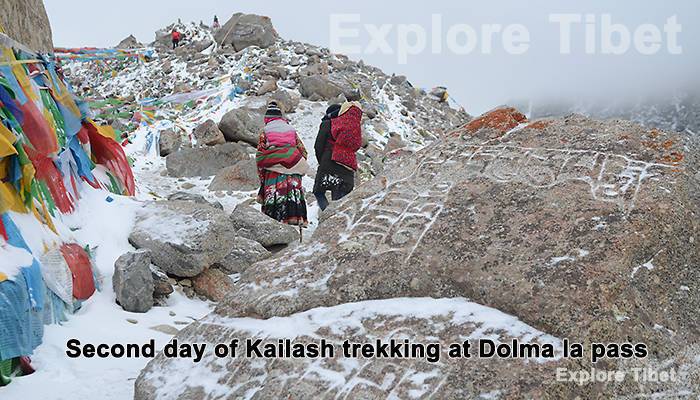 Despite being blind, at 49 years old Gonkho had faith that he would be given the strength to complete the koras and complete his annual ritual. A ritual he had been doing for decades, this slim, unassuming individual made this pilgrimage as part of his normal life and did in just a single day what m