Don and Australian Group Travel Review in April 2013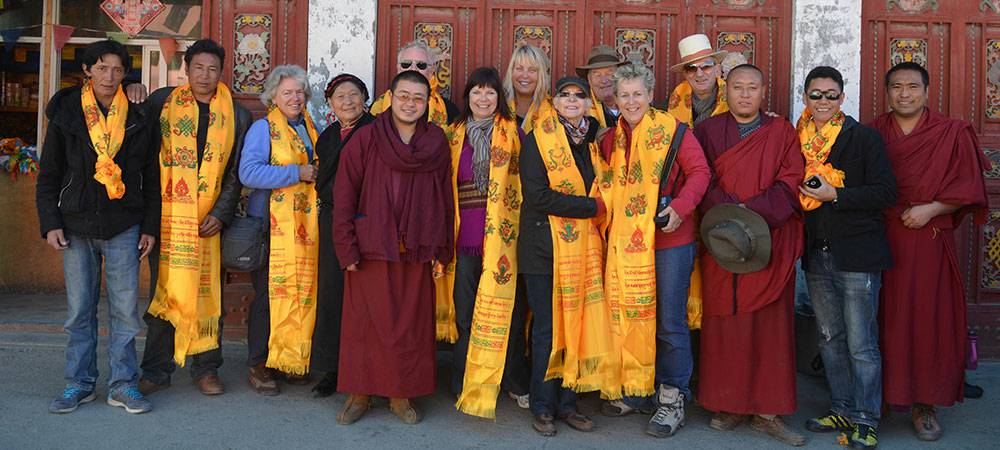 David Whitelaw said:
"WOW!! What a tour. The 2
nd
part of the tour had to be drastically changed, this was done with (what seemed to me & us without effort or hassle) professionalism, quick response and obviously with clients interest in mind. The changes were absolutely fantastic, giving me a greater understanding of local culture & customs. I am very privileged to have participated."
Ross Clark said:
"Without a doubt the best-organized tour I've been on. Also, given tiring condition and an unscheduled change of itinerary. The organization on behalf of the tour leader and the tour guide was at all time both professional and efficient, while, in terms of the tour, being totally seamless, Excellent on every level, thoroughly enjoyed my tour and I'll definitely do it again. (As well as recommend)"
Catherine Said:
"Jamphel is an excellent tour guide. He is very well organized, welcoming and always very eager to help and answer questions. Jamphel was able to coordinate an excellent itinerary, in spite of the last minute changes cause by difficulties in travel permits. The accommodation was excellent and the group was always informed of relevant details regarding departure time, arrival times etc. Each day was well planned and organized. It has been a pleasure traveling with Jamphel and I highly recommend him as a guide as well as Explore Tibet. Thank you Jamphel for providing such a wonderful service & experience!"
Katherine Ann said:
"I have been incredibly impressed with the extreme professionalism of this trip. We have had to change plans very quickly & it has been done with good humour, good grace & has gone very smoothly.
Congratulation on making what has been a challenging tour. FABULOUS!"

Yvonne Marcia said:
"I have enjoyed the different culture of the area visited and "Explore Tibet" agency have really gone out of their way to made this a deep to remembered. I wish them all the best for their future group tours"
Michelle said:
"Jamphel went the extra mile almost every day for us. Even though our tour was cancelled to Lhasa, Jamphel rearranged the trip without any hassles, always informing us along the way. Great guide, fantastic person, would highly recommend. Jamphel & drivers for any other trips & also to my friends"