2013 Kristina's travel story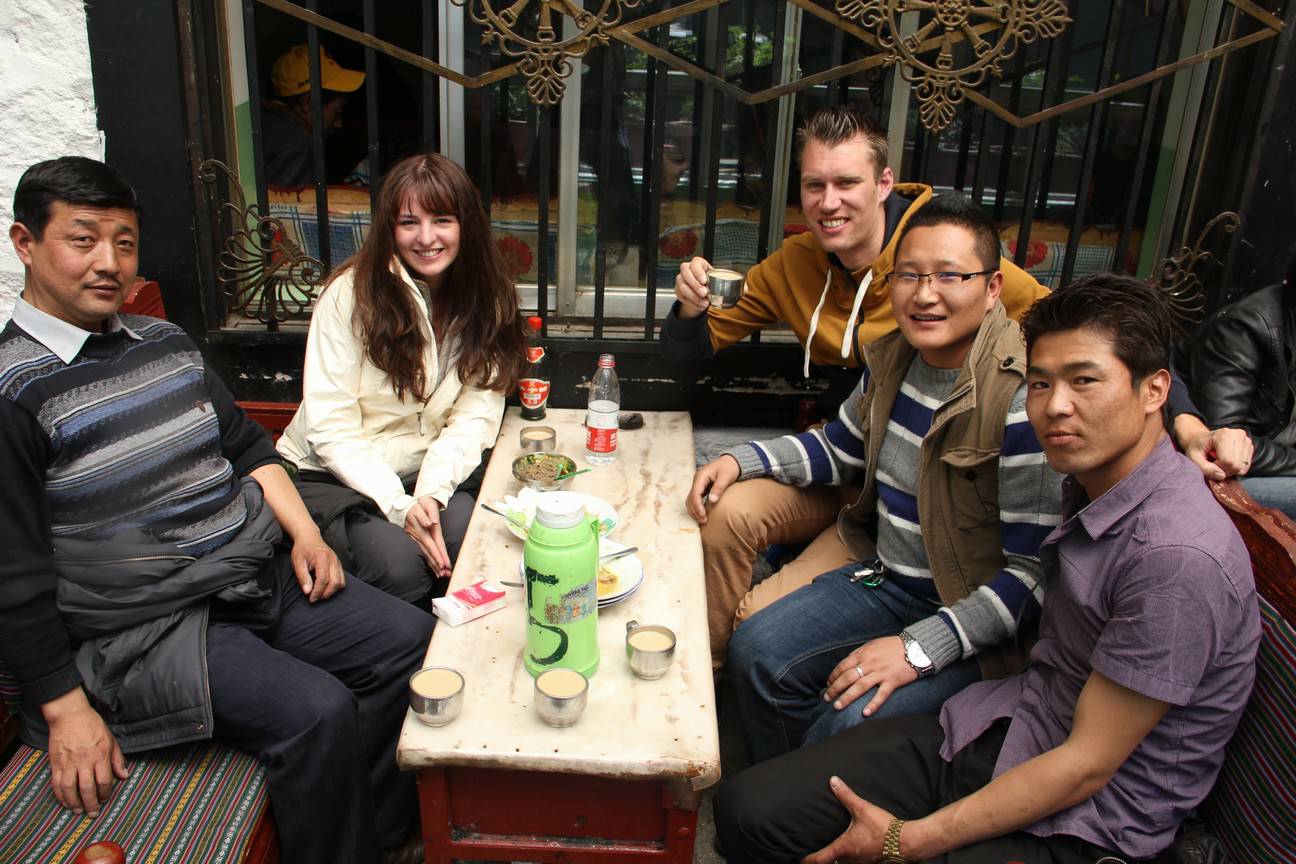 Tashi, Kristina, Alfred, Samdup, Namgyal in April 2013--provided by Kristina
Dear Samdup,
Thank you very much the whole team of "ExploreTibet", especially to Samdup, Namgyal and the driver Tashi. Although we had only some days in Tibet ("5 days Holy Lhasa tour"), it has become an fantastic experience.
I stayed in contact with Samdup in about 3 months before our trip. Samdup is a very kind and friendly person, which promptly replied at all our different questions and gave good advices. Samdup was and is always alert, responsible, so thanks to him we had a special trust that when we will arrive to Lhasa everything will be ok, and it was really wonderful! Samdup has done a great job also with the permit, because we were afraid that in our situation it could be almost impossible. Thuk-je-che!
We really enjoed the Holy Lhasa Tour with the driver Tashi and the tour guide Namgyal. Tashi drives his car confidently and carefully and he is has humble and polite personality. Namgyal has enorm deep knowledge about Tibet, Tibetan history, Tibetan Buddhism, traditions, culture and we really enjoyed how Namgyal shared his knowledge and passion about Tibet with us. As he said this at our arrival day, for some days Namgyal has become to us more just as a tour guide, but really as a friend, to whom you can fully trust and to whom you can ask various questions. Namgyal is a very responsive, friendly and cheerful person and a very professional English speaking tour guide.
Trust, friendship, passion for their work and responsiveness - that is what has made a special atmosphere and mood before-, during- and after our wonderful tour with Samdup, Namgyal and Tashi. I dreamed of 10 years to visit Tibet and this trip has left a fantastic impression to me and to my husband. Thank you very much Samdup, Namgyal and Tashi for the opportunity to visit Tibet and to have such an unforgettable experience! Thuk-je-che I would like to wish you good luck and i would also like to recommend "ExploreTibet" to all our friends and people who wish to enjoy their visit in Tibet.
Many regards,
Kristina and Alfred