13 Days Chengdu to Lhasa Overland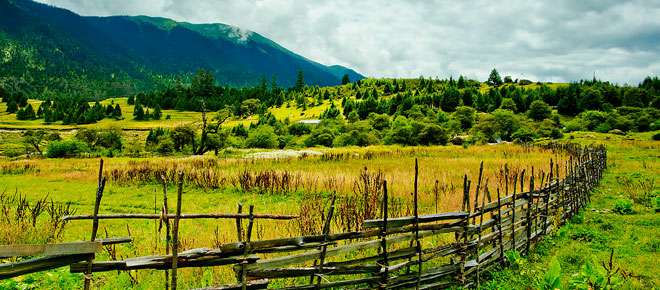 Is this trip for me?
Price: from 0 USD Explain>>

1. Based on double occupancy.
2. Comfortable hotels in cities and guesthouses in some remote places.
3. Flight and train are not included.
4. Tour cost is only for reference, please inquire for detailed quotation.
5. The more people, the cheaper cost.

Trip Length: 13 days / 12 nights
Trip outline: Chengdu-Lithang-Bathang-Markham-Pomi-Nyintri-Lhasa
Activity: Cultural Spiritual Experienc, Overland Driving Tours
Season: All Year Around, Summer, Autumn, Spring, Winter
Trip Level:
Explain>>
In order to make it easier for you to choose the right trip, we have graded our trips with certain Trip Level System from 1 to 4 according to the degree of activities and altitude. We have also suggested the most suitable groups or individuals for each Trip Level.
In the Trip Overview of each itinerary there is also a brief description of what the Trip is like.
Our staffs at the Explore Tibet are always happy to answer any questions you have and guide you to the trip that best suits your interests and level of fitness.
1. Easy
Light walking and hiking that is suitable for all level of fitness, generally altitude range between 3500m/9800ft to 4000m/13000ft. Hotels and guesthouses accommodation.
Suitable for family with kids and senior groups.
2. Moderate
May included moderate level of hiking, biking, horse riding and maximum altitude of 5000m/16000ft. Hotels and guesthouses accommodation.
Suitable for family with kids bigger than 12 years, individual having average level for fitness.
3. Moderate to Strenuous
May include high altitude hiking up to 6 hours, long hour driving and sometimes overnight at around 5000m/16000ft, require a moderately high level of fitness, camping and basic lodging facility.
Suitable for adult family, individuals physically fit and have experiences of high altitude trekking.
4. Strenuous
May include high altitude trekking and mountaineering, camping and basic lodging facilities, altitude range from 3600m/9800ft to 6000m/19000ft.
Suitable for adventures and individual with physically fit and healthy.
Enquire Now
Customize Now
The splendid Chengdu to Lhasa overland Tour route is one of the best Tibet overland tour to Tibet with total distance of 2,412km long, it starts from Chengdu in the east and ends at Lhasa of Tibet on the west. It is one of the way to travel from Chengdu to Tibet. The road stretches into Lhasa passing few prominent Khampa culture centers like Kangding, and Lithang, fabulous views of mighty mountains within the alpine fertile valley of Pasho and Lulang, stunning views of Ranwu lake and Basum lake. Sichuan-Tibet highway traverses 14 high mountains with average altitude of 4500m, spans dozens of famous rivers, crosses primeval forest and photogenic villages. Crisscrossing route over the narrow and rocky with steep slopes and sharp ridges gives spectacular views of nomad communities on the vast plateau grassland, picturesque sceneries of lakes and snow capped peaks within the beautiful fertile valleys, extending the way further to the west to Lhasa and couple of days visit to the world heritages and mystical temples within the city will end the trip with full of astonishment and appreciation. Generally the eastern part is enjoying a mild climate due to the penetration of monsoon winds and precipitation from Southeast Asia, so this adventurous journey is accessible from April to Mid June and then Sept to Nov, since monsoon(from end of June to August) rainfall brings road damages.
Tour Map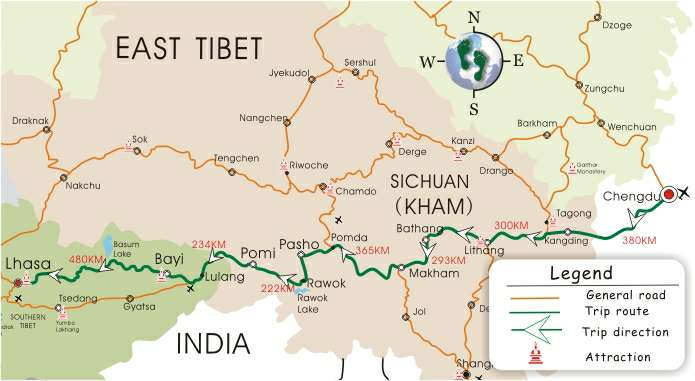 Click on the map to enlarge
Days
Trip Outline
Activity
Accommodation
Day 1
Arrival in Chengdu (550m)
Pick up and transfer to hotel, rest at hotel.
Hotel in Chengdu
Day 2
Chengdu sightseeing
Giant panda breeding center
Hotel in Chengdu
Day 3
Chengdu-Luding-Kangding (2700m), 380km, approx 8hrs
Khangding Tibetan towns
Hotel in Kangding
Day 4
Kanding-Lithang (4040m), 300km, approx 6hrs
Vast nomadic pastures
Hotel in Lithang
Day 5
Lithang-Bathang-Markham (3875m), 293km, approx 6hrs
Yangtse river
Hotel in Markham
Day 6
Markham-Basho (3280m), 365km, approx 8hrs
Mekong river
Hotel in Basho
Day 7
Basho-Ranwu-Pomi (2725m), 222km, approx 6hrs
Ranwu lake
Hotel in Pomi
Day 8
Pomi-Nyintri (2930m), 234km, approx 6hrs
Mt.Namcha Barwa, Lulang alpine forest valley
Hotel in Nyintri
Day 9
Nyintri-Lhasa
Basum lake
 Hotel in Lhasa
Day 10
Lhasa sightseeing
Bakhor street, Johkang Temple, Potala Palace

Hotel in Lhasa

Day 11
Lhasa sightseeing
Sera Monastery, Drepung Monastery
 

Hotel in Lhasa

Day 12
Lhasa-Namtso-Lhasa
Namtso lake

Hotel in Lhasa

Day 13
Depart from Tibet
Send off to train/airport
NOTE: Hotels can be upgraded or downgraded based on your requirement, please check more hotels in Tibet HERE
Tour Cost Included:
Tour Cost Includes:
- All necessary travel permits to Tibet;
- Entrance ticket fees for all the sight spots listed in the program;
- Private transportation in Tibet: Ranging from 4WD land cruiser to bus depending on the group size and trip route (car gasoline is included), SEE VEHICLE PHOTOS HERE;
- Private guide: English speaking local Tibetan guide;
- Lodging: available from 5 star hotels to budget guesthouses, SEE HOTEL PHOTOS HERE;
- Pick-up and send-off services at the beginning/end of the tour;
- Oxygen canisters: 2 canisters for each person;
- Lodging and meals for guide and drivers;
- First aid kit;
- Liability travel insurance;
Tour Cost Excluded:
- Travel insurance covers trip cancellation and emergency evacuation (recommended);
- Expenses of a personal nature (alcoholic beverages, laundry, phone call, etc.);
- International and domestic flight/train.(Note: we accept flights and train tickets bookings in advance, please check the updated cost and ticket availability with your travel consultant);
- Meals that are not specified in the itinerary (Averagely a meal in Tibet cost USD5 per person);
- Gratuities for the guide and driver:
DAY 01. ARRIVAL AT CHENGDU EITHER BY AIR OR TRAIN;
Today you will be greeted by our representatives at the Chengdu International Airport and a short drive of 30 minutes get you to hotel in the Chengdu downtown, rest in the hotel and alleviate jet-lag. Overnight in Chengdu.
DAY 02. HALF DAY GIANT PANDA BREEDING CENTRE ESCORTED TOUR.
Attraction: Giant Panda Breeding Centre, cute giant Pandas and Red Pandas.
This morning our guide and driver meet you at the hotel lobby about 8 am and start the beautiful day with a visit the Panda breeding centre, the cute pandas are very active in the morning and there you will see them rolling, climbing and eating bamboos, Chengdu Giant Panda breeding centre was founded in 1987 with 6 rescued Pandas from the wild and now there are about 83 Pandas rearing in it. You will enjoy the time by seeing both Giant Pandas and red Pandas, you will definitely impress by seeing the newly born Panda cubs in the nursery. After lunch, you have time to pack and prepare for your long overland journey through the Tibet plateau, you will meet your Tibetan guide and drive this afternoon and confirm your departure time of the trip. Overnight in Chengdu.
DAY 03. CHENGDU - YA'AN -LUDING - KANGDING, 380km, 7 to 8 hours' drive
Attractions; Chengdu country side view, Kangding Tibetan town situated in the narrow valley.
Today we will drive to Kangding via Ya'an and Luding, the well paved highway ends at Ya'an, then the twisted and narrow road within the gorge sometimes take longer than expected, continues drive through the Mt.Erlang(3437m) tunnel and following river upstream to Kangding. Kangding is the capital of Ganzi Tibetan Prefecture, but in these days more and more Chinese merchants trading in the town and settled there, the river passing in the middle of the town plays and important role during the sunny summer days. You may have a short walk around the street after dinner. Overnight in Kangding.
DAY 04. KANGDING(2395m) - LITHANG(4041m), 300km, 6 hours' drive.
Attractions; Mt. Zheduo(4270m), vast nomadic pastures, blooming wild flowers, mighty snowcapped peaks.
Today we will drive across the Zheduo pass(4270m) and it is remarked by a heap of prayer flags and a stupa, Tibetan pilgrims put prayer flags up on the passes which is considered as most clean spot, further driving into the valley pass by the recently opened Kangding airport, before we get to XinduQiao, you will be impressed by the colorfully designed triangular prayer flags and well carved mantras over the hillside along the road, among Chinese tourist, XinduQiao is well known as heaven for photographers, especially in spring, when the trees along the road shed its leaves with yellowish color, the whole surrounding looks like a great painting and crowds of Chinese tourist occupies the whole region. After hours of drive through ranges of mountain we will enjoy natural lakes and lone nomadic family tents with herds of sheep and yaks on the peaceful pastures. Way to Lithang we will cross over the Jainzi Wan pass(4659m) and by following the route over the ridge experience the distinction of driving on the roof of the world. Sooner, we will get to the days destination Lithang which is located in a high valley, it is famed as the birthplace of the 7th and 10th Dalai Lamas. At your arrival in the town, check in the hotel and explore the local street rest of day. Overnight in Lithang.
DAY 05. LITHANG - BATHANG(2580m) - MARKHAM(3875m), 293km, 6hours drive.
Attractions; Plateau nomads and snowcapped mountains, Yangzi river(Drichu) and beautiful valleys.
Today we drive continues toward west to Markham via Bathang, wide grassland of the region is home of hundreds of nomads and herds of animals, wild blossoms end of July and August is like huge garden than a pasture. After a short drive from Bathang county, we will cross the Yangzi river bridge and it is borderline to the Tibet Autonomous Region, the check point at the end of bridge will check the documents and permits to enter TAR, then the road goes within a deep gorge and endless mountain views and valleys stop you for photos, the road meet with Yunnan-Tibet highway at Markham and we will spend the night there and you have time to explore around the local bazaar in the town after the dinner. Overnight in Markham.
DAY 06. MARKHAM - ZUGONG(3877m) - PAMDA(4120m) - BASHO(3280m), 365km, 8 hours' drive.
Attractions; Typical Tibetan villages, stunning views of mountains and Mekong river.
Today we will cross over the highest point of the whole journey, the Dongdo-la with altitude of 5108m, then we follow the road along Yachu river which is a tributary of the Salween river and meet spurroad to Chamdo at Pamda, from there the unpaved road cross over the Nujiang mountain(4658m), the dusty road climbing down into the valley with 72 bends could be the worst part of the road, then the road pass through numbers of villages along the stream lead to the small town of Basho which is located right on the road side, it is best place to spend the night in the region. Overnight at Basho.
DAY 07. BASHO - RANWU(3960m) - POMI(2725m), 222km, 6 hours' drive.
Attractions; Green valleys and snow mountains, Ranwu lake.
Today we drive to Pomi via Ranwu lake, the gradual descending in the altitude bring climate changes from dry to moist, forest get thicker along the road, once we get at Ranwu, we stop for a while to view the stunning Ranwu lake that gives you beautiful shots with reflections of the snow mountains in the lake, then for few kilometers along the lake and drive further to Pomi. Overnight in Pomi.
DAY 08. POMI - TONGMI(2070m) – LULANG(3285m) – NYINTRI(BAYI)(2930m), 234km, 6 hours' drive.
Attractions; Alpine forest valley of Lulang, Mt.Namcha Barwa(7787m), Mt, Gyala Palri(7151m).
Today the paved road goes through the beautiful green valleys, but snow mountains appearing far behind the forested mountains and colorful wild blossoms are known as Tibetan Switzerland, the road trace upstream of the Parlung river and Rongchu river, we will cross over the photogenic suspension bridge over the Yigong Tsangpo and then further up to Rongchu valley, the virgin forests and subtropical climate of the area is unique on the Tibetan plateau, then a short drive get us to the gorgeous alpine valley with abundant rhododendron and cypress forest is known as Lulang forest sea and then ascent through a series of switchbacks from picturesque Rongchu valley to the Serkym la pass(4582m), we will stop at the Serkym la scenic spot that give you a perfect view of thorough Rongchu valley and Mt. Namcha Barwa(7787m) and Mt.Gyala Palri(7151m) in the background, then it is only about 60km to Nyintri town. Overnight in Nyintri.
DAY 09. NYINTRI (2930m)– BASUM TSO – LHASA(3650m), 480km, 8 hours' drive.
Attractions; Alpine Basum lake, green valleys and typical villages, glimpse of giant Potala Palace.
Today we will drive along the Nyanchu river upstream, within the alpine valley we will pass by numbers of villages, en route we will drive to Basum lake which is about 50km turn-off from the main road, apart from the sheer beauty of the lake it is connected with semi-mythical king of the Kham-King Gesar and Indian abbot Guru Rinpoche, there are also several folk stories about the surrounding snowcapped peaks, walk across the board floating bridge to visit the historical Nyinmapa monastery amid the island. Afternoon we will trace back to the main road and continues drive toward west, cross over the Mila pass(5000m) and it will gain several hundred meters in altitude, gradually you will feel the dry plateau climate and the bare mountains are the real feature of the central and western Tibet. Further drive along the Lhasa river, you will be impress by glimpse of Potala Palace from the distant that perching up from the rest of the city. Overnight in Lhasa.
DAY 10. LHASA ESCORTED TOUR.
Attractions; Potala palace, Jokhang temple and bustling Bakhor street.
Today is your first day on the high plateau and some of you may have little head ach which is very common for travelers by the high altitude, so drinking enough water and mild activity on the first few days is important. In the morning our guide will meet you at the hotel and take an easy visit to Jokhang Temple in the centre of the Old Lhasa city. Jokhang temple is the most scared temple in all over Tibet and it is always bustling with earnest local pilgrims. After you visit inside the temple you have time to walk around the Bakhor street which is the one of the most devotional circuit as well as crowded central market of Lhasa since from long time, in the early days it is the most famous local market but now it is changed to tourist gift shopping centre. In the afternoon we will visit the famous Potala Palace, the cardinal landmark of Tibet and the masterpiece of Tibetan architecture, it was first built by 33rd King Songtsen Gangpo in 7th century and later in 17th century rebuilt by 5th Dalai Lama, since then it was home to the Dalai Lama and his government. Continues acclimatize and alleviate jet lag rest of the day. Overnight in Lhasa.
DAY 11. LHASA ESCORTED TOUR.
Attractions; Drepung monastery and Sera monastery.
Today we will visit Drepung Monastery in the morning, once the world's largest monastery that housed for more than 10,000 monks, it was resident of the Dalai Lama prior to Potala Palace, destructions were taken place in different time but still you have lots things to see, walking through numbers of narrow and twisted lane through the monks' apartments is more like a typical village. The amazing day will have ended with a visit to the Sera Monastery, it is built in the fifteenth century by the Jamchen choji Sakya Yeshi who is disciple of Tsongka pa, few different monastic colleges in Sera is home to several hundred monks from different part of Tibet, the famous Buddhist philosophical debates among the monks are happening every day in the afternoon except Sunday. Continues acclimatize and alleviate jet lag rest of the day. Overnight in Lhasa.
DAY 12 NAMTSO LAKE(4700m) DAY TRIP, 8.5hrs,500km,
Attractions; Namtso lake, Mt. Nyechen Thangla, Lagen la pass(5190m), view of Thangula range and Nomad family.
Today we drive to north-west of Lhasa via Qinghai-Tibet highway, tracing the Tibet train track till Damshong and then cross the Lagen la pass by driving further west to Namtso lake, north-western part of Tibet is vast pastures for the plateau nomads since from long time and we call it Jiangthang (Northern nomads land), from ridge of the Lagen la(5190m) it gives you the first view of the amazing Namtso lake vista, the paved road cut through the nomad grasslands and black tents of nomad families can be seen along the road side during summer season, Tashi peninsula is the final destination of the day, in the afternoon you have enough time to explore around the Tashi Do peninsula and surroundings.
Namtso lake
is one of the Tibet's three most holy lake and Tibetans makes pilgrimage circumambulation around the lake on some ritual time which takes about a month or less to complete the whole circle, it is world highest salt water lake and second largest salt water lake in China with 70km in length and 30km in breadth (1st largest salt water lake in China is Kokorno lake in Qinghai province). Late afternoon, drive back to Lhasa, en route you will visit a nomad family to experience the yak wool tent from the inside and get you chance to understand little more about their lifestyle. Overnight in Lhasa.
DAY 13. LHASA AIRPOR/TRAIN STATION SEND OFF.
Today our guide and driver will send you to the airport or train station and it is time to say your good bye and depart to your next destination. End the trip officially
Tour Cost Includes:
Tour Cost Includes:
- All necessary travel permits to Tibet;
- Entrance ticket fees for all the sight spots listed in the program;
- Private transportation in Tibet: Ranging from 4WD land cruiser to bus depending on the group size and trip route (car gasoline is included), SEE VEHICLE PHOTOS HERE;
- Private guide: English speaking local Tibetan guide;
- Lodging: available from 5 star hotels to budget guesthouses, SEE HOTEL PHOTOS HERE;
- Pick-up and send-off services at the beginning/end of the tour;
- Oxygen canisters: 2 canisters for each person;
- Lodging and meals for guide and drivers;
- First aid kit;
- Liability travel insurance;
Tour Cost Excludes:
- Travel insurance covers trip cancellation and emergency evacuation (recommended);
- Expenses of a personal nature (alcoholic beverages, laundry, phone call, etc.);
- International and domestic flight/train.(Note: we accept flights and train tickets bookings in advance, please check the updated cost and ticket availability with your travel consultant);
- Meals that are not specified in the itinerary (Averagely a meal in Tibet cost USD5 per person);
- Gratuities for the guide and driver:
Tibet is a country, which is totally different from any other places around the world, just because of its political sensitivity, rich culture diversity and peculiar geographical formation. Although this means it is not the easiest place to travel, which is also what makes it so special. In order to make your trip worry free and indisputable, here we have carefully collected all the essential information that will give you a clear image of the trip as well as logistics during your stay in Tibet, this also will be helpful for your trip preparation before you leave, so please go through it and make sure you are well prepare for the trip, if you have any questions, please feel free to contact our tour consultant or write us on 
sales@exploretibet.com
Legitimate Claim;
As we mentioned above, Tibet is politically very sensitive and any political activities are restrictedly prohibited, so we always advising our clients to keep away from any political conversations or activities that bound against the policy of People's republic of China. Your involvement in such activities would influence the whole group as well as future of all your guides, driver and the company. If any one does, then we have the full right to cancel the trip and we are not responsible for so caused hassle and costs.
Emergency contacts:
Being a responsible company, we are always available for 24 hours a day, in case if you need any emergency help. It is best to first call your designated travel coordinator or sales person (whose contact numbers are will be listed on your tour agreement), for any reason if you are not able to reach to him/her then please ring us on the below numbers;
Lhasa Head Office:
 (0891)-6329441 (the area code 0891 is not necessary if you are calling from Lhasa)
Chengdu Office:
 (028)-86262365
Note: 
office working time is 9am – 7pm from Monday to Friday.
Sonam Jamphel 
(Sales Manager) 0158890904080 or 013398000993 (Available for 24 hours a day)
Chinese Visa
Every one should have the valid passport (with minimum 6 months validity) and Chinese visa to travel into China and the Chinese visa is also valid in Tibet, generally the Chinese visa is can be applied either by your self or use a visa service agency in your home country, but the visa application and requirements are little vary in different countries, so please check with your regional Chinese Embassy or consulate for the most up-to-date visa requirements. NOTE; It is your responsibility to obtain the Chinese visa, so just for your information it is better not to list Tibet as your travel destination on your visa application form, just list Chengdu or Beijing, whichever your in-bound city is as your travel destination. If you enter Tibet from Nepal then you don't need the Chinese individual visa and please check the next line for what you need.
If You Enter Tibet From Nepal
If you enter Tibet from Nepal, then the permit and Chinese visa formalities are slightly different, to enter from Nepal, you don't need the Chinese individual visa and instead you should obtain the Tibet group visa from Chinese Embassy in Nepal, you can't apply it directly and you should have a local Nepalese agency to apply for it, so our Nepalese partner agency will assist you for that application, normally the application takes 2 to 5 working days for different cost and it only can be applied when you arrive in Nepal, because your original passport is needed along the application. 
More about the Tibet Group Visa and cost please check here
Tibet Travel Permit and Its Process
Tibet travel permit is compulsory for all the travelers to visit Tibet and it can be obtained within 15 days prior to the trip starting dates, once you have booked the tour with us, we will obtain it for you which is included in the tour package. We need clear scan copies of your Chinese visa and passports to apply for the permit.
For more detail and latest permit updates, please check here
Etiquettes and Taboos:
Cultural Considerations: 
Be aware that your cultural values may differ from those of locals. These may include different concepts of time, personal space, communication, etc., which are not wrong or inferior, just different. Making the extra effort to respect local customs and cultural differences will enhance your interactions with locals during your time in Tibet and contribute to building mutual respect between locals and tourists.
Appropriate attire: 
Most Tibetans are pretty conservative from our western perspective so it is always polite to wear long pants at all times (guys and girls). If you wear shorts in rural villages or in the Bakhor district in Lhasa you will definitely get stranger looks than normal! Women should wear long pants or skirts. Shirts should not be revealing and bras should be worn. Unfortunately, many tourists ignore these cultural norms and can be seen in towns and villages wearing shorts and revealing summer attire; while it may be comfortable, it is not appropriate, especially when visiting monasteries. Don't be shy to inform other tourists of the proper dress for monasteries; perhaps they are not aware of the cultural considerations and etiquette.
Itinerary Disclaimer
Generally we adhere to the original itinerary that we described but sometimes little alterations can be born due to the situations that are beyond our control. On the other hand, in order to make our trip for your personal experiences and flexible, we allowed our clients to make minor changes by discussing with us (office staff) and guide (field staff). The trip detail itinerary is a general guide to the tour and region, and any mention of specific destination or activities is by no means of guarantee that they will be encountered or carried due to the local circumstances and climate.
Keeping in touch with folks at home
If your family members or colleagues or friends want to connect with you during the tour, then you can either provide your guide mobile number to reach you during the trip or if you don't know your guide number at the time, please don't feel hesitate to provide our company contact numbers listed in the Emergency Contact section and we can find a way to reach you through guide mobile.
Meals
In order to provide you the maximum flexibility of what, where and when to eat, we generally doesn't include meals in the tour cost except breakfast included at the hotels, but our local guide will suggest you good local restaurant per your requirements. In the cities like Lhasa, Tsedang, Gyantse, Shigatse and Zhangmu you can find good restaurants serve wide range of Tibetan food, continental food, Nepalese food, Indian food and Chinese cuisine, but in Tingri, EBC and in remote places, there is a limited choice for noodles and pan cakes. Approximate cost of a meal in Tibet is USD3 – USD10 per person/meal depending on your individual requirement.
Destination Guide & Recommended Reading List:
Tibet is a unique travel destination with some special considerations. It is highly recommended that you undertake some background reading before travel to Tibet. The more you learn about your destination, the more rewarding your travel experience will be. While we include a recommended reading list, which you can refer to for in-depth information, the following is a recommended reading list that might be helpful for you. | 
Tibetan History
 | 
Tibetan Culture & Arts
 | 
Tibetan Religion
 |
Lhasa and the TAR:
Tibet: The Lonely Planet Country Guide
Trekking in Tibet: A Traveler's Guide by Gary McCue
Tibet Handbook: Moon Travel Guide
Fodor's Nepal, Tibet, and Bhutan: Expert Advice and Smart Choices: Where to Stay, Eat, and 
Explore On and Off the Beaten Path
To a Mountain in Tibet by Colin Thubron
The Mount Kailash Trek by Constance Roos/Sian Pritchard-Jones
Trekking Tibet by Gary McCue/George Schaller
The Heart of the World, A Journey to the Tibet's Lost Paradise by Ian Baker
My Journey to Lhasa by Alexandra David-Neel 
Kham and Amdo regions:
Footprints Tibet Handbook by Gyurme Dorje
Lonely Planet China (See Yunnan, Sichuan, Qinghai and Gansu Provinces)
Bradt Guide Tibet by Michael Buckley
Domestic Flights and Trains to Tibet
There is only one international flight to Tibet, which is from Kathmandu (Nepal), and then there are lots of flights from different cities in Mainland China like Chengdu, Beijing, Shanghai and so on. 
Please Check Flight Schedule and Cost Here
There is no international train to Tibet and all the trains are from Mainland China like Chengdu, Beijing, Shanghai, Xining and so on. 
Please Check Train Schedule and Cost Here
Responsible Tourism Initiative: 
Tourism has the potential to have positive and negative effects on the local environment and peoples. Making a conscious decision about how you travel can make a difference. Whether you are traveling to the Amazon rainforest or to Mt. Everest Base Camp, taking the initiative to reduce negative impacts and help sustain local communities is the responsible thing to do. 
Read more how we practice Responsible Travel
How & What To Pack
It is important to pack light and effectively, specially when you travelling to a new place, you need to know some necessary items should be carry with, depending on the length of your trip and where you go, you can get away with a minimal amount of clothing. One medium-large backpack or rolling duffle and a day pack should be just right for a 2-4 week trip. 
We suggest you to check our packing guideline here
Complaint & Feedback
We are always trying to provide the best service that can achieve a memorable Tibet tour for you, but sometimes you might be dissatisfied with some arrangement as different people has various aspirations and requirement, so please let us know instantly and we will try to solve everything right away to avoid repeating mistakes unknowingly. As we are looking for every single opportunity to improve our services, so your valuable suggestions and constructive complaints are very much appreciated.

"Visiting Tibet was a dream comes true for us, and particularly for Colin, who has wanted to visit the Potala Palace since he was a child. We've been to other Buddhist countries and regions -- Sikkim, Nepal, and all over Southeast Asia -- but Tibet seems particularly remote and starkly beautiful. We don't know anyone else who has been to Tibet."
-- From James & Colin (USA). Traveled in Oct 2012. 
"We were extremely pleased with our guide and itinerary, our guide gave us good suggestions for activities when we were on our own, responded well to our requests and was adaptable, and was good company for these few days. he talked with local people and monks to give us more interesting experiences." ----From Ruth Rosenfeld and her son (USA), traveled in May, 2011.
"Overall very enjoyable experiences, thanks to our knowledgeable and caring guide. We look forward to coming back next time."
----From QuynhTien Cao & Gia Chan Vuong (Australia), traveled in December, 2011.
"Base camp was very nice. The stay with a Tibetan family very interesting. "
----From Silke Neumann (Germany), traveled on 15th May, 2012.
"Overall had a great trip and were very happy with the driver and the guide. Especially Phurtse was always available to help and was very knowledgeable, especially on the monasteries and temples. Greatly enjoyed the personal touch on my birthday from Phurtse and Explore Tibet. Thank you."
----From Janie Neumann (Germany), traveled on 15th May, 2012.
"We had a wonderful time travelling in Tibet and i thank you for making our trip so fabulous."
----From Margaret (Australia), traveled in April, 2012.
"We had a wonderful time traveling in Tibet and i thank you for making our trip so fabulous. You are an amazing and special man Sonam Jamphel."
Write Us Here