3 Days Cultural Tour
Is this trip for me?
Price: from 0 USD Explain>>

1. Based on double occupancy.
2. Comfortable hotels in cities and guesthouses in some remote places.
3. Flight and train are not included.
4. Tour cost is only for reference, please inquire for detailed quotation.
5. The more people, the cheaper cost.

Trip Length: 0 days / 0 nights
Trip outline:
Activity:
Season:
Trip Level:
Explain>>
In order to make it easier for you to choose the right trip, we have graded our trips with certain Trip Level System from 1 to 4 according to the degree of activities and altitude. We have also suggested the most suitable groups or individuals for each Trip Level.
In the Trip Overview of each itinerary there is also a brief description of what the Trip is like.
Our staffs at the Explore Tibet are always happy to answer any questions you have and guide you to the trip that best suits your interests and level of fitness.
1. Easy
Light walking and hiking that is suitable for all level of fitness, generally altitude range between 3500m/9800ft to 4000m/13000ft. Hotels and guesthouses accommodation.
Suitable for family with kids and senior groups.
2. Moderate
May included moderate level of hiking, biking, horse riding and maximum altitude of 5000m/16000ft. Hotels and guesthouses accommodation.
Suitable for family with kids bigger than 12 years, individual having average level for fitness.
3. Moderate to Strenuous
May include high altitude hiking up to 6 hours, long hour driving and sometimes overnight at around 5000m/16000ft, require a moderately high level of fitness, camping and basic lodging facility.
Suitable for adult family, individuals physically fit and have experiences of high altitude trekking.
4. Strenuous
May include high altitude trekking and mountaineering, camping and basic lodging facilities, altitude range from 3600m/9800ft to 6000m/19000ft.
Suitable for adventures and individual with physically fit and healthy.
Enquire Now
Customize Now
DAY 01. LHASA-GANPA LA PASS(4900m)-GYANTSE (3900m), 7hrs, 380km
Attractions; Yamdrok lake, Mt.Nyechen Kangsar glacier, Gyantse Kubum stupa and Pelkhor Choede monastery.
Today we drive upstream of the Brahmaputra river cross over the Gampa la pass to Gyantse, after passing numbers of Tibetan towns villages we will climb up the Kampa la pass (4700m) through a distorted road, right from the top of Gampa la pass you will have the first glimpse of the breathtaking view of the holy Yamdrok lake with its turquoise color deep within the mountainous valley, then continues drive along the lake for few kilometers. En route we will stop at Karo la (5150m) to see the holy mount Nyenchen Kangsar glacier. The rest of the day will be spent enjoying the many magnificent valleys and exquisite Tibetan villages that we pass through. Arrival at Gyantse we will visit Kumbum stupa and Palkhor Choede monastery.This magnificent multi-door structure is the largest stupa in Tibet, it is not only well known for its architecture but also its old sculptures and paintings all around the inner walls have centuries of history. Overnight at Gyantse.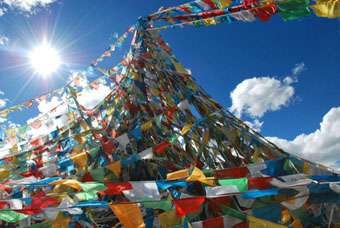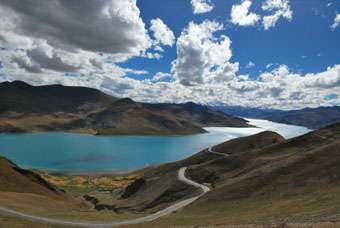 DAY 02. GYANTSE-SHIGATSE(3800m), 90km, 1.5hrs.
Attractions; Villages and farms, Shalu monastery, Tashi Lhunpo monastery.
Today it is short drive to Shigatse on a very good road, en route we will visit Shalu Monastery which is the seat of Buton Rinchendrub(1290-1346) who was the great codifier of the Tibetan translations of the Indian Buddhist canon, Shalu monastery is the only one that combines Tibetan and Chinese styles in its design, though the whole monastery gone under several renovations in different period but the green tiled Chinese style is clearly visible in these days. afternoon drive to Shigatse and visit Tashi Lhunpo monastery, Tashi Lhunpo monastery is built by the 1
st
Dalai Lama-Gedun Drup in 1447 and later it became the seat of the Panchen Lama lineages, there you will see tombs of 7 passed Pachen Lamas lineages. Overnight at Shigatse.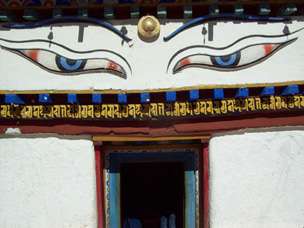 DAY 03. SHIGATSE - LHASA, 280km, 4/5 hrs.
Today we will drive back to Lhasa along the northern friendship highway, the road cuts through numbers of villages and we will stop at Nyimo local home based incense factory, this region is well known for their incense production since centuries ago, they use primitive water operated tools to process incense materials and each incense sticks are hand made, you may see locals making it on the spot, then you will get arrive in Lhasa in the afternoon and you have plenty of time to explore around the Bakhor to shop gifts for your families and friends at home. Overnight in Lhasa.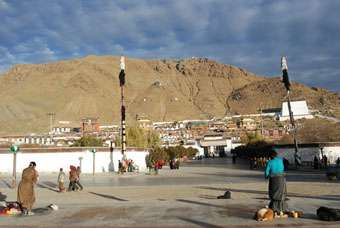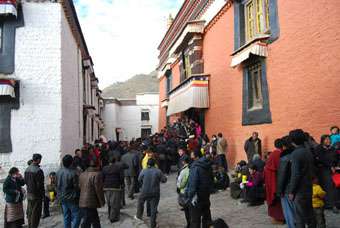 Write Us Here