Destinations

Train No.

Depart

Arrive

Runtime

Distance

(km)

Fare in CNY

Hard

sleeper

Soft

sleeper

Lanzhou to Lhasa

Z917

12:19

12:05

(2nd day)

23h46m

2188

522

823

Lhasa to Lanzhou

Z918

10:10

10:14

(2nd day)

24h04m

Lanzhou to Lhasa Passing by trains
Z21
T23
Z265
12:46
14:07
17:03
13:08
14:22
16:30
24h15m

2188

522

823

Lhasa to Lanzhou Passing by trains
Z166
Z266
Z22
12:15
13:10
15:30
12:40
12:48
15:59
24h15m

2188

522

823

Frequency: Every other day

Lhasa to Lanzhou. Odd days: (Jan/Apr/May/Aug/Nov/Dec) Even days: (Feb/Mar/Jun/Jul/Sep/Oct)

Lanzhou to Lhasa. Odd days: (Feb/Mar/Jun/Jul/Sep/Oct) Odd days: (Jan/Apr/May/Aug/Nov/Dec)
Note:
the train ticket costs we listed in the table is net ticket cost, but most of the time it is very difficult to get the train tickets as there are huge number of visitors taking the train every day, so certain amount of services will be added to get the tickets from local ticket agent, exact amount of service fees will different based on the season, so please contact our trip advisor for exact cost of the tickets.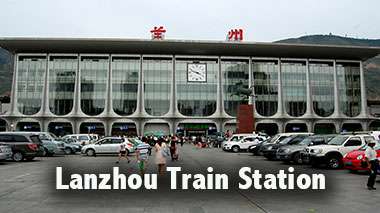 The train from Lanzhou to Lhasa starts from
Lanzhou Train station (兰州站)
Taxi from the Xining Airport to the train station cost around CNY150 and takes about 1:30hrs.
Note:
Please make sure that you have a copy of the Tibet Travel Permit to board the train.
Please use the below map to check the distance from your location to the train station.
Train Station Map
Tibet Train FAQs
If you are taking the train to Tibet, then you will only need a copy of the Tibet Travel Permit, we will send a copy of the permit by email that you can print out and take with you on the train.
There are three main types of seats on the train: hard seat, hard sleeper and soft sleeper. Hard seat is just a metal seat where all passengers sit next to each other; it is rarely used by westerners, especially for long train rides. In hard sleeper, there are about 6 berths to a cabin where you will have your own bed. Soft sleeper is the most deluxe seat on the train with 4 berths in each cabin equipped with its own TV. Soft sleeper is about RMB 400 more expensive than soft sleeper. Toilets on the train are shared and are located at the end of each carriage.
Yes, you can book your train tickets to and from Lhasa (Tibet), but you should know that train tickets to and from Tibet starts sell 10 days before the departure date and can only be purchased from the train ticket counter located in the departing city; you can't book your tickets online. Buying your own train tickets is very hard and generally only possible during the low season (Nov. - March).
Train tickets to Tibet are in very high demand and are nearly impossible to acquire in the regular way. First off, there are limited trains to Tibet and most of the seats are under state control, especially in soft sleeper. There are only 48 soft berths in each train and the government occupies most of them when they are needed. Secondly, there are numerous ticket-dealing agents that sell the tickets for a higher cost; so during high season, all tickets come with a very expensive service fee.
We should always book train tickets from the ticket dealers in advance. If you would like to book your own ticket, then we wont' book your ticket for you and you will have to get in line at the train ticket counter to purchase them. It is very common that all the train tickets are sold out before they even begin to be sold from the ticket counter. In this care, we will try to purchase the tickets for you but because of the late booking, there might be an expensive surcharge.
The Lhasa Train Station is only 15km south of Lhasa. It is separated from the main city by Lhasa River. It should only take around 20 minutes to get to the center of the city.
f you book the train tickets with us along with the packaged tour, then we will arrange for the train tickets to be delivered to your hotel in China. You will need to send us the address of your hotel and your booking number. Usually we will make the delivery 5-10 days prior to departure.
For the most part, trains depart on time and you are advised to arrive at the train station 2 hours before your departure time. You will need to fill out a health record form prior to departing and there are often many people in line so it may take some time to check into the train.
Each train has a dinning car with a capacity of 40-50 seats. The dining car mainly serves Chinese cuisines, noodles, soups and some Tibetan dishes. If you don't want to eat in the dinning car, then there is a delivery cart that will bring dishes around to each car every meal. If you need to purchase dishes, the cost will increase by RMB 20-25. For breakfast, they generally serve pickles, eggs, bread and rise porridge for RMB 10-15
.
There is water boiler in each car and you can get boiled water for free, but you need to bring your own mugs.
Contact Us
+86-13398000993(Lhasa)
+128 1742 2243(USA)
sales@exploretibet.com
exploretibetTour
Find a Trip Choose one or more fields
Booking Steps
Sent Inquiry

Receive a Quotation
(in 1 working day)

Amend the Trip
for FREE

Confirm & Pay
Deposit(30%)

Receive Invoice & Flight/Train Info

Pay Balance & Enjoy
the Trip