Lhagang monastery



The full name of Lhagang monastery is Minyag Lhagang Yongdzog Rabgyal Lhakang Thongdrol Samdrubling. It was built in the year 652 by the Tibetan king Songtsan Gampo's Chinese wife princess Wencheng, during his time he built in total 108 temples and monasteries all over the Tibetan plateau, and Lhagang was the last one so that it got the name Yongdzog Rabgyal Lhakang which means the temple of prosperous end.
Lhagang monastery is the first ever Buddhist monastery in Kham or far eastern Tibet, originally the monastery practices Kagyupa sect and then later it changed into Sakyapa sect. It currently has 108 white stupas behind the main temple and few hundreds of prayer wheels all around the monastery.
According to the history, one of the Indian Eighty Mahasiddhas, Huchen Kara visited this holy place and magically built a stupa and named it as Drupthok Choeten which literally means Stupa of Mahasiddhas.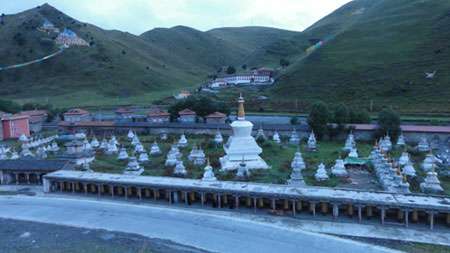 Later great scholars like Brahmin Saraha, Brahmin Gunpo, Vairochana, Guru Padmasambava, Yudra, Phakpa and four other Minyag local scholars built stupas which are still exist with other holy remains like speaking statue of Avalokiteshvara, Divine Conch Shell, Trumpet and conch of Vairochana, footprint of Dharmaraj Phakpa and so on.

Lhagang monastery is one of the popular monasteries in the Kham region and it receives thousands of local pilgrims every year to see its most holy image of Jowo Shakyamuni. Four spiritual mountains of Avalokiteshvara, Vajrapani, Manjushri and Tara surround the monastery.

Currently there are about 100 monks in the monastery and up to 90 monks studying at the Lhagong Buddhist Institution, this institute receives monks from all over the region to do their further Buddhist study and practice their Buddhist philosophical debate in the cord yard.

Moreover the Lhagang monastery has opened a monastic school that teaches basic Tibetan language and Buddhist study for primary level, but currently it is only boys and then after they completed the school they can decide whether continues study Buddhist philosophy at the monastery, with help of some international NGOs, this monastic school is also trying to introduce some vocational training among the kids like Thangka painting and carpenter.