Dzogchen Rudam Orgyen Samten Choling Monastery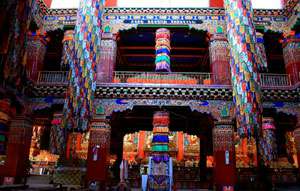 Dzogchen monastery is located in Kham under Dege county, glimpse of the monastery can be viewed from the road between Manigango to Yushu(Jyekudo).

Dzogchen monastery is recognized as the major pilgrimage site in East Tibet plateau and as one of hte largest monastery of Nyingmapa sect in Kham. It sits at an altitude of 4023 meter, in the concealed valley of Rudam Kyitram, dominated to the southwest by the jagged snow peaks of Trori Dorjee Shiltrom(5846m).

The monastery was founded in 1684-85 on the advice of the fifth Dalai Lama, by the charismatic first Dzogchen Pema Rigzin (1625-97), and it was subsequently maintained by his students, including Shechen Rapjam Tenpei Gyaltsen, and by his successive incarnations. Among the latter, second Dzogchen Gyurme Thekchok Tenzin (1699-1758) is know to have inspired the king of Dege to establish the famous Dege Parkhang (prining house), third Dzogchen Ngedon Tenzin Sangpo (1759-92) built 13 hermitages, colleges and mantra-wheels. Later the Dzogchen linages had improve their teaching and its Dzogchen branch monasteries throughout the Tibet plateau.

Dzogchen monastery was renowned for the study of philosophy and Vajrayana untill the mid 20th century. Apart from that the monastery as equally renowned for its meditation hermitages and the caves which were inhabited by hermits in the upper reaches of the Rubdam Hyitram valley. Important figures such as Dodrub Trinley Ozer (1745-1821), Do Khentse Yeshi Dorje, Peltrul Rinpoche and Mipham Rinpoche passed many years in meditation in this region, the rocks of which are intimately connected with their visionary experiences. It was also here that the Peltrul Rinpoche composed his great commentary on the preliminary practices of Buddhist meditation.