Our Staff Community
Explore Tibet Distributed Recyclable Thermo Bottles to Local Tibetan Tour Guides and Drivers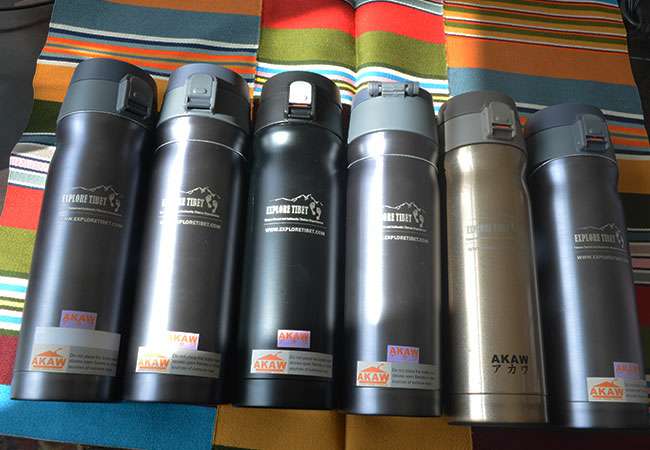 As being a local
Tibetan travel company
, we always trying our best to bring a positive impact in our community, in the past years, some of our
Tibetan tour guides
received ecotourism trainings from Columbia University as well as some other NGOs, in other hand, our company try to develop the awareness of ecotourism and environmental friendly among our staffs.
Recently,
Explore Tibet
had distributed uniformed thermo bottle to our
Tibetan tour guides and drivers
, because we believe that our tour guides and drivers are the not only representatives of our company, but they are also traveling most of the time with our clients, so instead of buying bottle water all the time, they can refill the thermo bottle from the restaurants and hotels, therefore it would reduce the plastic bottle waste, moreover, we believe influencing to other
Tibet tour companies
may work better than just doing oneself, so we encourage our Tibet tour guides and drivers to promote the ideas among other tour guides and drivers from other tour companies.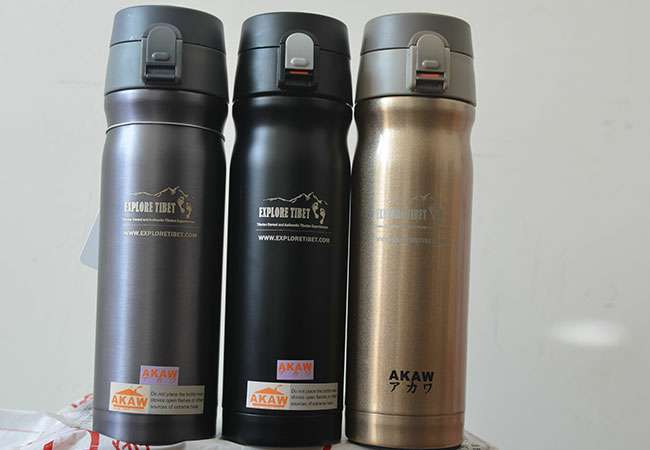 Explore Tibet Drak Yerpa Cleaning Project Year 2014
As being a local Tibetan tour company, we always trying our best to give something back to our community and build awareness to others through our action, supporting locals and encourage local people is one of the core value of Explore Tibet.
We are very thankful to Chris Jones from Columbia University and other several NGOs who had conducted Ecotourism and Customer service trainings for our Tibetan staffs in the past couple of years, though we are still away from our goal but we always keep trying to improve ourselves and trying best seize any opportunities that we have.
Also our special thanks goes to all our respected clients who support us and provide their invaluable feedbacks which accelerate our improvements.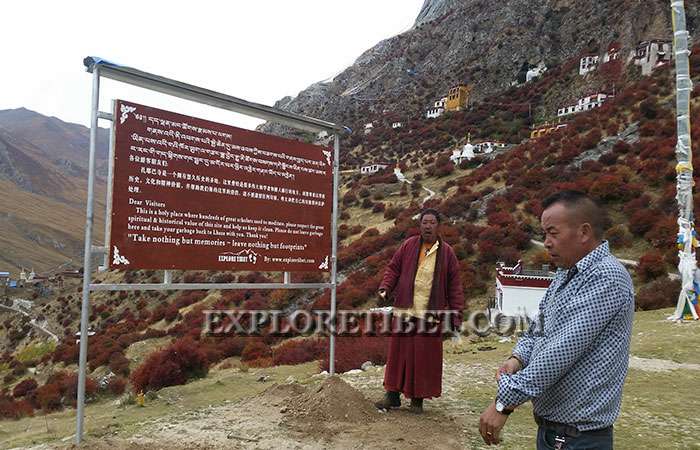 On Oct 13
th
, we organized and cleaning project at Drak Yerpa, in the morning some of the staffs from Explore Tibet travel to Drak Yerpa and clean the area for the morning, then we also stand up three wooden boards at three important spots around the sites.
All the cost of the day is facilitated by the company and we are hoping to bring more projects like that in the future. Though a day or two is not enough to clean the area as well as our environment, but we think building awareness is very important and such influences will grow in our society.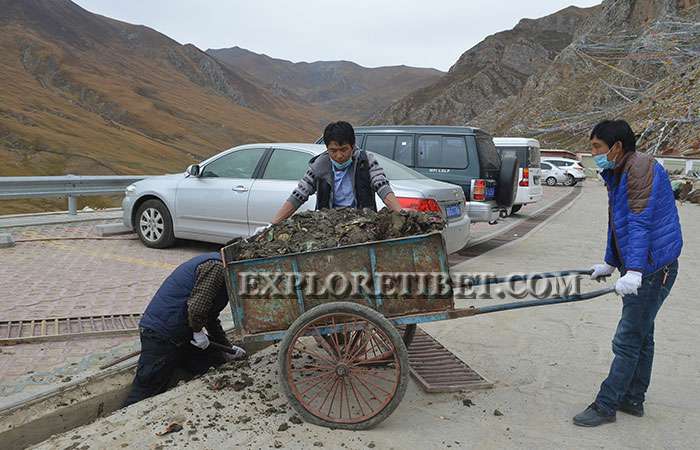 << Our guide Namgyal and drivers cleaning the Channel>>
Through this activities, we try to improve our staff's awareness on importance of environment, at the same time, we hope the message on the board will remind our fellow travelers to bring their garbage back to cities where there have garbage recycle facilities.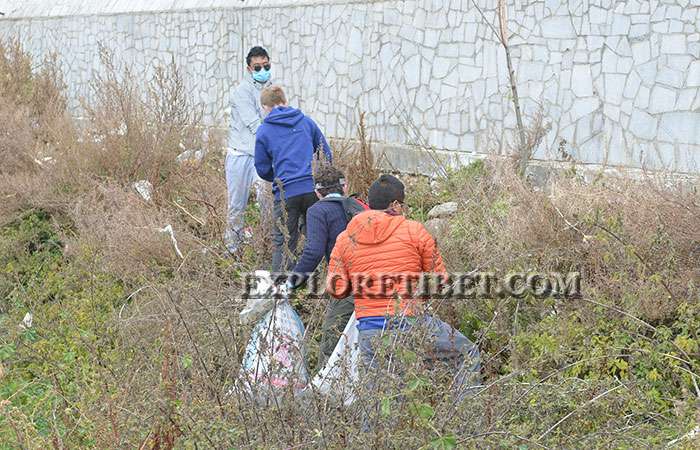 << Samdup, Rooney (Tse Dhondup), Paul and Students picking the garbage from the bushes >>
Drak Yerpa Hermitage site is a very holy place since from centuries ago, hundreds of great scholars visited there and meditated for years, there have holy caves and temples can be visited. Lots of local Tibetan pilgrims make their spiritual tours to this site.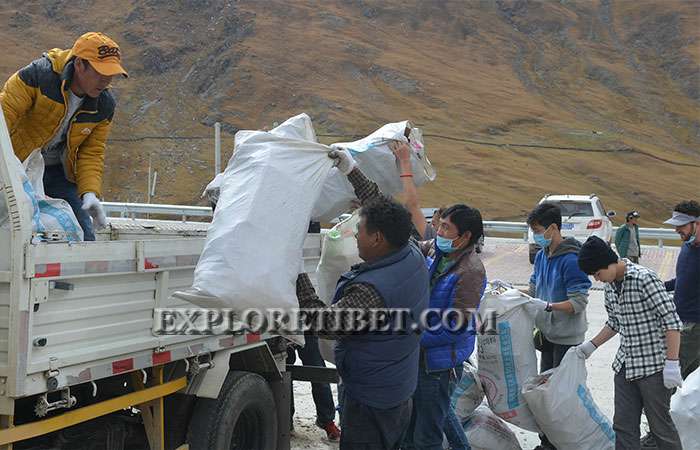 << Loading the garbage bags on the truck>>
Goal of our project:
We stand three trilingual metal and wooden boards at three important spots, one at the parking area, one at the visitor's entrance and another at the picnic spots.
Obviously there are not many inhabitants at the area and most of the garbage is brought by visitors, and especially our fellow Tibetans and Chinese visitors don't have the habit of clean their own trash, so our goal is to remind them importance of cleaning their trash by placing the boards where they can easily see and read.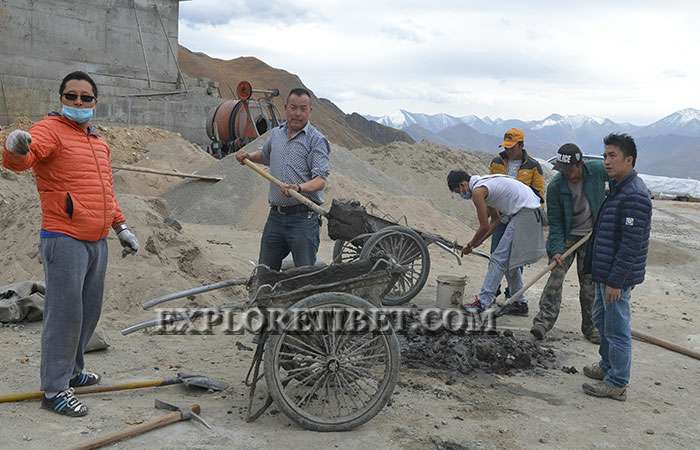 << Explore Tibet Staffs mixing the cement for the boards>>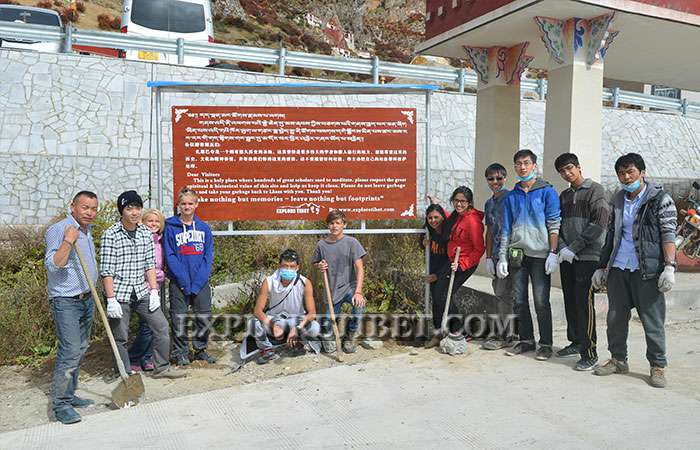 << Our team with our students group who participate the cleaning project>>
Messages on the boards:
The messages are in three different languages in an order of Tibetan, Chinese and English.
"Dear Visitors:
This is a holy place where hundreds of great scholars used to meditate. Please respect the great spiritual & historical value of this site and help us keep it clean. Please do not leave garbage here and take your garbage back to Lhasa with you. Thank You!
Take nothing but memories – leave nothing but footprints".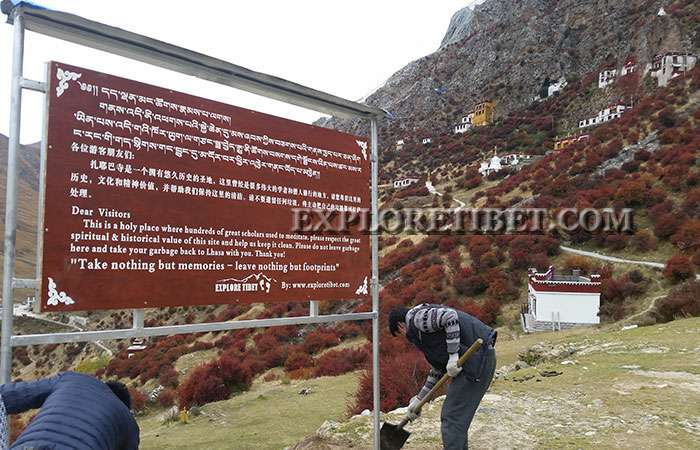 << Our guide Namgyal and sales Kalsang are finishing the last board at the highest point>>

++++++++++++++++++++++++++++++++++++++++++++++++++++++++++++++++++++++++++++++++++++++++++

Staff Weekend Pilgrimage to Drak Yerpa Hermitage
It was a sunny day and some of our staff agreed to go to
Drak Yerpa hermitage
for the weekend, it took about 40 minute drive through the Nachen la pass, hike through the hills and visited all those holy caves and temples were a great experiences.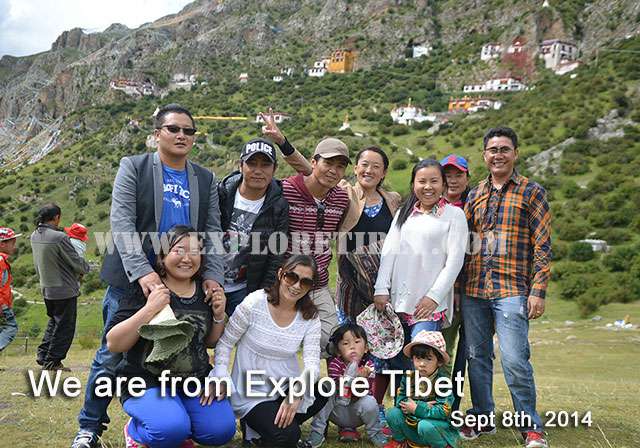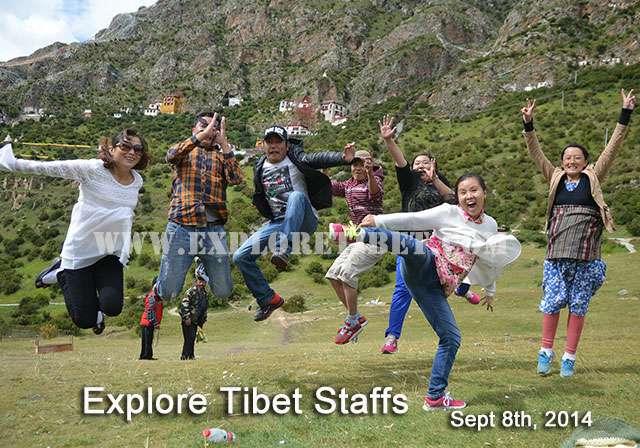 Drak Yerpa
is located about 30km northeast of Lhasa, is one of the holiest cave retreats in central Tibet. Among the many ascetics who have sojourned here are
Guru Rinpoche
and Atisha(Jowo-je), the Bengali
Buddhist
who spent 12 years proselytizing in Tibet. King Songtsen Gampo also meditated in a cave, after his Tibetan wife established the first of Yerpa's chapels. The peaceful site offers lovely views and is a great day trip from Lhasa. If you have half day in
Lhasa
, this is a great option to experience rural
Tibet
and peaceful monastery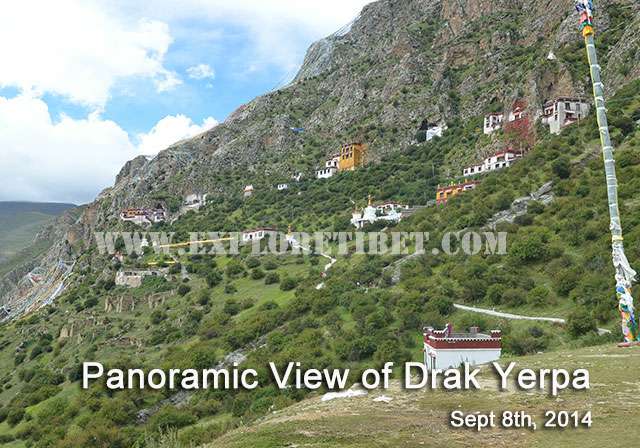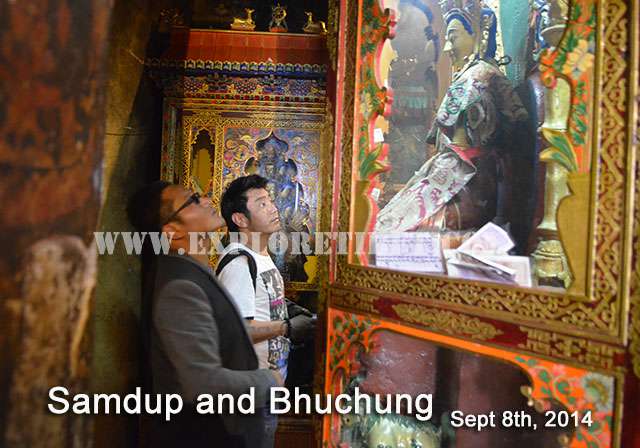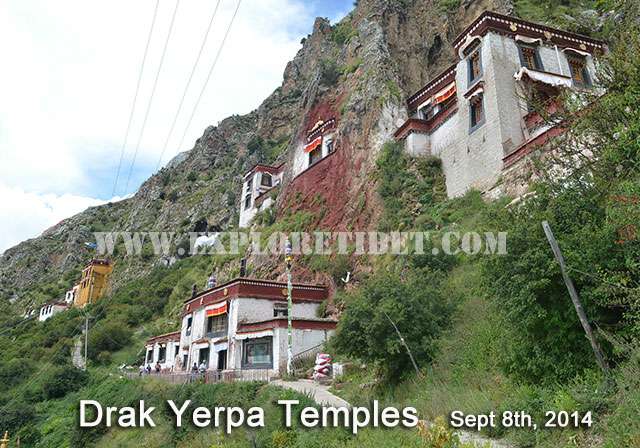 Minimizing the negative impacts of conventional tourism by educating both local communities and visitors are becoming the most extraordinary way to preserve the beautiful destination for future generations. Obviously the tourism industry in Tibet plays a crucial role in the economic development of the region, but the measurable impacts of the tourism put the fragile culture in a thread, in past decades, Tibetan Village Project has carried important responsibility to address these unavoidable problems and facilitates series of Ecotourism workshops and trainings for those who are directly involved in the travel work. It is a great honor for us to attend the Ecotourism training workshops in 2010, 2011 and follow the idea of Responsible Travel.
I am Samdup Gyal, a Tibetan tour guide of Tibet Group Tour, me and Kalsang Namgyal had participated the 7 days Ecotourism training in 2010, in the short period of 7 days, we had a great opportunity to learn new things by discussing with International experts and other participants, we had discussed lots of practical Ecotourism issues that we have ignored during our working times, ie, throwing garbage at the remote campsite during the trekking tours and giving inadequate information of etiquettes and taboos to the clients.
It is our great privilege to participate the Ecotourism training in Lhasa, the training was held from Oct 26
th
to 30
th
2011 among 14 Tibetan guides and cook, within the short period, we learn new concept of Ecotourism in a practical way with teaching of Christ Jones from Columbia University and elaborate explanation of uses and function of First Aids Kit by Tibetan Dr.Gyelpo has guided us to lead a group more meaningful and responsible way.
Write Us Here